Author

Date

1 July 2019

Type

Share button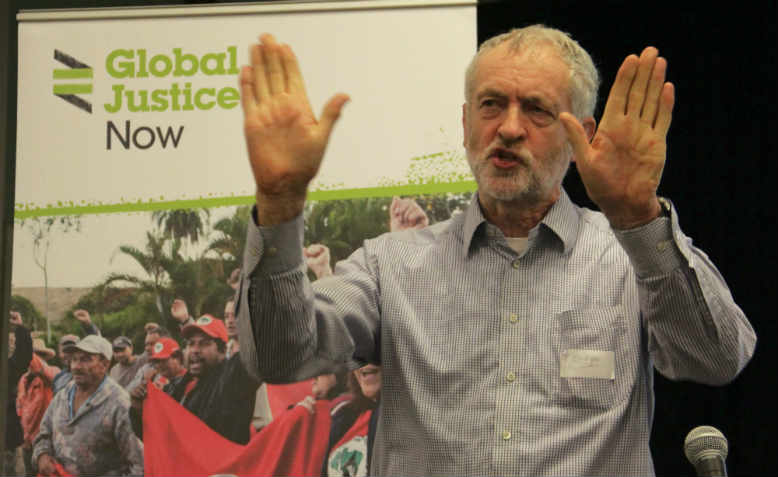 Witch-hunt season is back with a vengeance and Corbynism must re-assert itself to stay in the game, argues Alex Snowdon
The reinstatement of Chris Williamson's membership of the Labour Party was absolutely correct, while those who have attacked the decision are dangerously wrong. The attacks have been led by the 'usual suspects' of Labour's right wing, but supported by some who are associated with the Labour Left. Furthermore, there has disappointingly been conspicuous silence on the matter from many left-wing MPs. There is now a serious danger that – following concerted pressure – the decision to reinstate Williamson will be overturned by the party's national executive, while some MPs are reportedly manoeuvring to have the Labour whip removed from the Derby MP.  
The repeated attacks on Williamson have been part of a wider twofold assault. One element of that is the desire to weaken, demoralise and divide the Corbyn-supporting Left; the other crucial element is the ongoing push to delegitimise opposition to Israeli apartheid. The ongoing campaign to use claims, however spurious, of antisemitism against left-wing figures brings these two aims together. 
Williamson became a target partly because of his expressions of pro-Palestine and anti-war sentiment, and his left-wing associations more generally, but particularly because he openly championed democratic reforms to the Labour Party. His Democracy Roadshow events enraged many of his parliamentary colleagues with their suggestion that Westminster candidates ought to be democratically selected by party members, rather than sitting MPs being automatically re-selected. 
He has also been targeted because in some ways he is an easy target, having expressed his views clumsily and on a number of occasions saying or doing things that were genuinely wrong. I am from a different political tradition to Williamson and have disagreements with him. However, I recognise a witch-hunt when I see one. So do thousands of grassroots Labour members, who are ill-served by many prominent left-wing figures and by the leadership of Momentum, the main organisation of the Labour Left. 
What is particularly troubling is that Williamson was suspended not for saying anything antisemitic, but for expressing views on the alleged crisis of antisemitism in the Labour Party with which others disagreed. The substance of his comments was correct: Labour had conceded too much ground to those who were cynically weaponising antisemitism for their own political ends. By accepting the 'frame' created by Corbyn's political opponents, inside and outside the Labour Party, arguments that should have been challenged had instead been legitimised. 
This is a dangerous escalation of the campaign to characterise the left as antisemitic, as it expands the focus from those who have allegedly expressed antisemitic views to anyone who expresses a view that differs from the dominant narrative. That is, of course, the point. It is how witch-hunts work: guilt by association, intimidating people into silence, policing what can and cannot be said. 
Relentless attacks by Labour's right wing
The weaponising of antisemitism has been one of the two main fronts of attack by those seeking to destroy the Corbyn project – the shifting of the Labour Party to the left – since Jeremy Corbyn's election as party leader in 2015. The other front is Brexit, with insistent demands for a second referendum. On both these fronts the Right has been aided by divisions and disorientation in parts of the Labour left. 
On both fronts the retreat is due to a number of factors. A big factor is the enormous pressure of the Labour right wing. It remains dominant in the PLP and the party's councillor base. It is backed by the media and sections of the state and the ruling class, with which it has good connections. A further problem – at times crippling – is the tendency of some senior Labour left figures to bend to these right-wing forces in a bid to preserve party unity. Ultimately the desire for such 'unity' trumps holding principled positions or advancing the politics of the left. 
These pressures can be accentuated by a degree of political confusion in some parts of the Labour left, whether in understanding accurately the realities of the EU or in grasping the origins and nature of Israeli colonisation (and everything that means for the Palestinians and the fate of historic Palestine).
It is important for socialists to grasp these dynamics and have a soberly realistic understanding of the balance of forces. The left has made great gains but is not nearly as dominant in the Labour Party as often suggested by hostile media commentators – and at times optimistically by some Labour left wingers themselves. 
Labour is a parliamentary party and the logic is to bend everything towards the needs and demands of its parliamentary bloc, which remains predominantly right wing. In recent days we have even seen shadow chancellor John McDonnell, traditionally regarded as a close Corbyn ally, declaring that he wants to see a shift in Labour's Brexit policy towards backing a second referendum. This is not the first time McDonnell has made concessions to the parliamentary party's right wing: for example, last summer he conceded defeat on the IHRA definition of antisemitism when Corbyn was still trying to avoid it. That concession merely emboldened the right wing. The same is undoubtedly true now. 
Charting a way forward
Countering this push to the right requires a number of things. It means taking on the battles that arise now, not ducking them. Anyone who can't even defend Chris Williamson will be useless in the event of a left-led Labour government coming under sustained attack from the ruling class, the British state and international capital. 
It certainly means choosing better candidates for Westminster and local elections – the right-wing domination of the PLP is a major barrier and democratic selection is a key battleground inside Labour. It means pursuing a more radical left-wing policy agenda inside the Labour Party, raising the level of political education and discussion, and developing a more coordinated, cohesive and combative left-wing pole. 
It is also, though, about taking the struggle beyond the Westminster bubble, in particular by linking Labour (at the top and in the grassroots) to social movements on issues like war, austerity, Palestine, racism and climate change. A small example last week was the constituency party in Streatham (where Chuka Umunna is MP) voting to affiliate to the Stop the War Coalition. With the threat of US-led intervention in Iran, we need more of this – and a willingness to build on such gestures of support through participation in protests and public meetings. 
Other examples include the demonstration at Tory conference initiated by the People's Assembly, the coordinated climate justice strikes and protests planned for September, and the ongoing movement in solidarity with Palestine. These are all areas of activity and mobilisation where Labour could demonstrate its relevance and connect with the aspirations of millions of people. 
The challenge facing the left is to build the power, reach and confidence of our side. That involves turning outwards from Westminster and the narrow world of political Twitter, towards the self-activity of social movements, trade unions and grassroots Labour members. 
Fit to govern?
Jeremy Corbyn hit back hard against the ludicrous charge, reported in Rupert Murdoch's Times newspaper, that he is 'too frail' to be prime minister. The paper reported that senior civil servants had expressed concerns that Corbyn is not fit, physically, to be prime minister. It doesn't take any great insight to recognise that they are really afraid of the political challenge to establishment politics that Corbyn represents. Corbyn's response focused on how unacceptable it is for the supposedly neutral civil service – which, of course, is nothing of the sort – to make such a partisan political intervention. 
Left-wing MP Laura Pidcock and Unite general secretary Len McCluskey both issued strong denunciations of the claims on Sunday. Pidcock said: "It's all just part of an organised establishment – those who are bitterly opposed to his politics, who have been used to having power and wealth – knowing that we are getting closer to a general election." Indeed. They are scared of a Corbyn government and what it would represent. McCluskey used his appearance on the Andrew Marr Show to make the same point and to call for an independent investigation into civil service interference in democratic politics. 
It must be said that the age card is an audacious one for senior civil servants to play, considering our head of state is old enough to be Corbyn's mother – and the heir to the throne is a few months older than Corbyn. Good breeding, it seems, compensates for the ageing process. 
Tagged under: