Author

Date

22 September 2023

Type

Share button
The Tory attack on steel workers, escalated fightback in the NHS, action on the railways and in universities and more in this week's industrial bulletin
You can sign up to receive News from the Frontline straight in your inbox
This is the headline no national media group led with on the government announcement of a £500m bung to Tata Steel.
Tata Steel is very happy – its shares reached a 52-week high on the announcement by the UK government that it had signed off a deal with Tata by which Tata will only have to fund 60% of the cost of transforming its Port Talbot steel production facility into an Electric Arc Furnace (EAF).
The UK taxpayer will provide the remaining 40%.
This will be a government grant, not a loan. It will be free money, not a buy-in. Tata Steel reckons that EAF-produced steel will be produced at between £150-£170 cheaper than the present process. It estimates that the new plant will provide a return of 15-16%. So you can see why they are chuffed. The current two blast furnaces are approaching end-of-life. Without major investment, steel production at Port Talbot would cease. And a town built on the steel industry would go the way of the Welsh mining villages, gaunt witnesses to a bygone age.
That is the message the Tories are trying to sell, along with the 'greenwashing' argument that EAFs are carbon-friendly. In truth, major investment is needed if steel production is to be maintained, and EAFs are far less environmentally damaging. But the idea that public money should be used to underwrite it, while the profits should remain in the hands of private capital, and that 3,000 workers should be treated as so-much collateral damage, is disgusting. The current deal suits no-one other than the exploiters and their champions in Westminster.
Rishi Sunak and Kemi Badenoch have been touring the TV studios saying what a marvellous demonstration of Tory commitment to industry and employment this is. In fact, the EAF will only be able to process scrap steel (and the government looks like it is stitching up a deal to provide a significant proportion of this through a scrappage strategy – more public money to find its way into private hands).
This is not the end of the generosity of billionaire Sunak to Tata. Only 2 months earlier he signed off an unspecified bung to the Tata Group to build a 400GW battery cell giga-factory in the UK. To be fair to Sunak, it wasn't only his mates in Tata that benefitted from that particular government largesse, JLR are joint-partners in the giga-factory.
So let's be clear on this: a major motor manufacturer, with an intrinsic interest in ensuring the infrastructure is in place for the production of its electric vehicles; and a major investor in one of the basic raw materials (steel) for this industry; are both receiving undisclosed amounts of government money to develop a facility which will rake in the dosh for them.
It's almost as if the Tories think its ok to take state assets and flog them off to their nearest and dearest, at fire sale prices, sod the human cost, and present it as proof of their commitment to greening the economy.
At least Sunak is consistent: that's what they did/are doing with the Redcar steel site isn't it. £200m of public assets transferred to private purses. Coincidence or what?
IN BRIEF
Train drivers, members of the Aslef union who struck last week will be out again on Saturday Sept 30, causing particular disruption to Tories on their way to their annual conference. Picket lines at most major rail stations.
Junior and senior NHS doctors struck Tuesday and Wednesday of this week will be out again in a fortnight, 2-4 October.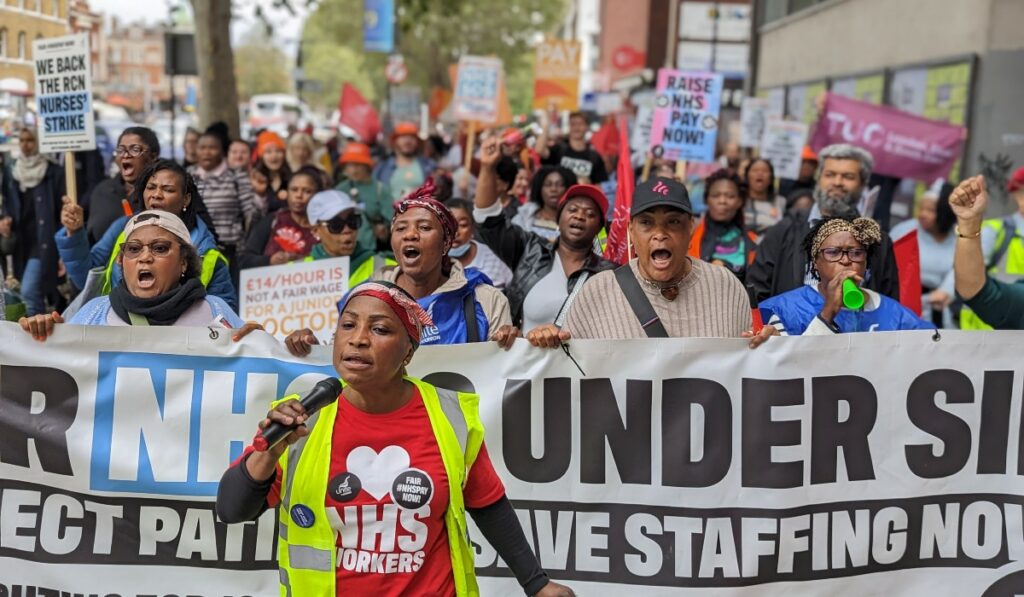 UCU members in a number of universities around the country are striking till 29 September.
Staff working for Sadiq Khan's London Mayor's Office for Police and Crime (Mopac) were striking Wednesday, Thursday and Friday this week (20-22) and again Monday and Tuesday of next week (25/26) for a £1,500 cost of living payment awarded to civil servants but not to them.

Bus drivers for Go NorthEast have voted for strike action from 30 September to 6 October.
THINGS TO DO THIS WEEK
Get down to Aslef, UCU and other picket lines. See Strike Map to find your nearest one.

Join the national demonstration against the Tories in Manchester on Sunday 1 October and encourage fellow trade unionists to come along. More details and transport info here.
Before you go
If you liked this article, please consider getting involved. Counterfire is a revolutionary socialist organisation working to build the movements of resistance and socialist ideas. Please join us and help make change happen.
Tagged under: