Author

Date

12 April 2022

Type

Share button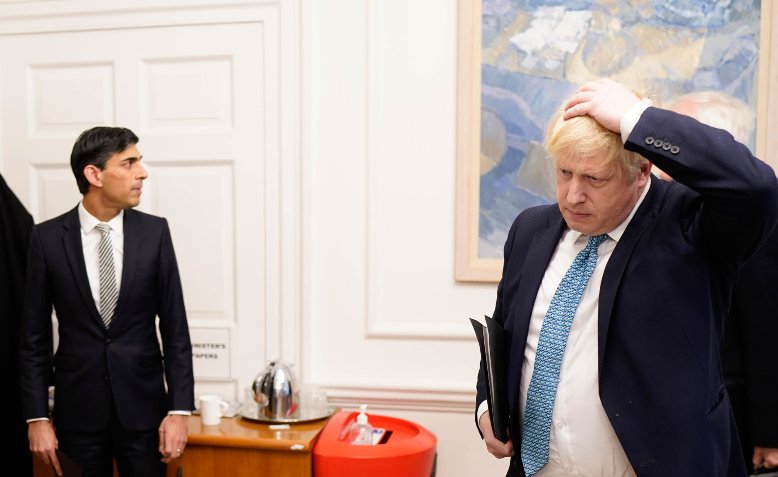 Johnson and Sunak's lies are finally catching up to them, but a slap on the wrist isn't good enough, writes Terina Hine
Boris Johnson and Rishi Sunak have today been issued with fines by the Met Police for attending lockdown parties. So too has the Prime Minister's wife Carrie Johnson.
The PM may be liable for more. The police are investigating six events Johnson allegedly attended – today's fines were just for the Cabinet room birthday party – so more fines may indeed follow.
Of course we have known for months that Johnson and his cabal have been lying about parties in Downing Street during the Covid lockdown – the evidence was clear, and the denials only revealed the contempt with which Johnson and co held the public. The convoluted tales of work meetings and ambushes fooled no one.
Yet Johnson, so sure of his own impunity, stood up in Parliament and told us he was "furious" to see staff joking about illegal parties, parties he claimed to know nothing about and was reassured had never taken place.
You would have to have been living under a rock not to be aware of partygate – it's even become a word in Italian so it is not just here in the UK that the scandal has resonance. Most of us found the behaviour reprehensible: as we were confined to our homes unable to even attend funerals or hold hands with dying relatives, they partied hard.
Johnson's lies were laughably unconvincing, and it was clear many supporters thought it would have been better if he had just come clean and apologised when first called out. Instead he chose to lie, lie and lie again. Today a snap YouGov poll found 75% of the public think Johnson knowingly lied about the parties and 57% believe he and Sunak should resign.
Now the extent of the criminality in Downing Street is becoming ever clearer – the police to date have issued more than 50 fines – and they are still investigating. But let's not forget, initially the Met Police told us there was nothing to see and refused to investigate.
At first it was Simon Case, Cabinet Secretary and Head of the Civil Service, who was tasked to conduct an internal investigation. At the time it was thought Case's report would exonerate the PM, and no doubt it would have done, if Case's own role as party organiser had not leaked out.
So the investigation moved into the hands of Sue Gray, who passed her evidence – including photos taken by the PM's official photographer – to the police.
And now the police have confirmed that the Prime Minister, along with his Chancellor, broke the law while in office.
The question is: what will happen next?
Historically, the honourable thing to do if caught lying to the House, is resign, and although there is no precedent for a British prime minister being caught breaking the law while in office, it doesn't take a legal genius to assume that when the law maker in chief breaks his own laws the decent thing to do would be to go. But this bunch is far from honourable and is definitely not decent.
Tory MPs who said they would hold back from a no-confidence vote until the outcome of the police investigation was known, that they would wait until there was irrefutable proof of Johnsons's guilt before taking action, are now in a quandary. Parliament is in recess, the war rages on in Ukraine, and with Sunak's recent fall from grace, even before being tarnished by partygate, the rightful heir is no longer apparent.
Sunak, once seen as Johnson's likely successor, was already on the ropes for his tax dodging affairs and out-of-touch mini budget. Rumours were abound at the weekend that he was contemplating resigning from politics altogether, as his ambitions for the top job were unlikely to be realised. If he resigns now – doing the honourable thing – it would further isolate Johnson. So perhaps he will.
Johnson has undoubtedly milked the war in Ukraine for all it's worth, affecting his Churchillian posturing to the delight of his backbenchers. A number of MPs are this afternoon repeating the line that war is not the time for a leadership battle – but there is form. Asquith was removed during World War One, Chamberlain during World War Two, and more recently Thatcher was deposed during the Gulf War. So perhaps war is the time after all?
The Covid-19 Bereaved Families for Justice group issued a statement calling for the resignations of both PM and Chancellor. Saying:
"When we met the PM in the Downing Street garden – the same one where they had these parties – he looked us in the eyes and said he had done everything he could to save our loved ones. We now know that that was a lie."
The statement went on to conclude, "Their dishonesty has caused untold hurt to the bereaved… If they had any decency they would be gone tonight."
So the answer is clear – Johnson and Sunak must resign immediately.
Before you go...
Counterfire is expanding fast as a website and an organisation. We are trying to organise a dynamic extra-parliamentary left in every part of the country to help build resistance to the government and their billionaire backers. If you like what you have read and you want to help, please join us or just get in touch by emailing [email protected] Now is the time!