Author

Date

15 March 2023

Type

Share button
As 700,000 workers across unions and sectors went on strike nationally, hundreds of thousands descended on the capital and shut it down. We share a collection of some of the pictures and videos from this historic day
Strikes and demonstrations in GB: Teachers, junior doctors und Tube workers walk out and fight for higher wages.

Streiks und Demonstrationen in GB: Lehrer, Assistenzärzte und U-Bahn Fahrer legen die Arbeit nieder und kämpfen um höhere Löhne. pic.twitter.com/Cl0TUzi81c

— ZDF Studio London (@ZDFlondon) March 15, 2023
"Children cannot be taught by teachers who cannot afford to live"

Margery, a former teacher, told us why she was out on today's national demonstration of strikers. #15March #PayUp #Strike pic.twitter.com/pV9Oc9erbQ

— Counterfire (@counterfireorg) March 15, 2023
Striking teachers leading the way! pic.twitter.com/9N0T8nn8Rz

— Counterfire (@counterfireorg) March 15, 2023
"Inflation is going up, the cost of living is going up and teachers deserve better" – Jo on why she's striking and came down from Manchester for the national demonstration pic.twitter.com/uPbrnBJbVh

— Counterfire (@counterfireorg) March 15, 2023
"We want to do the best for our children but we need more money"

Many of the striking teachers we spoke to today were clear that the education system is in crisis and it's damaging the futures of our children – this is a fight for them. All power to the @NEUnion ✊ pic.twitter.com/kVs1E8En16

— Counterfire (@counterfireorg) March 15, 2023
This is absolutely HUGE. It's been passing us for ages now.

So many striking teachers and doctors all out together @NEUnion @TheBMA @HCSANews

"What do we want? Fair pay! When do we want it? NOW!!!" pic.twitter.com/Pj47ApLgrc

— Shelly Asquith (@ShellyAsquith) March 15, 2023
And in other parts of the country:
Book now for the How We Fight, How We Win Rank-and-File Organising Conference on 10 June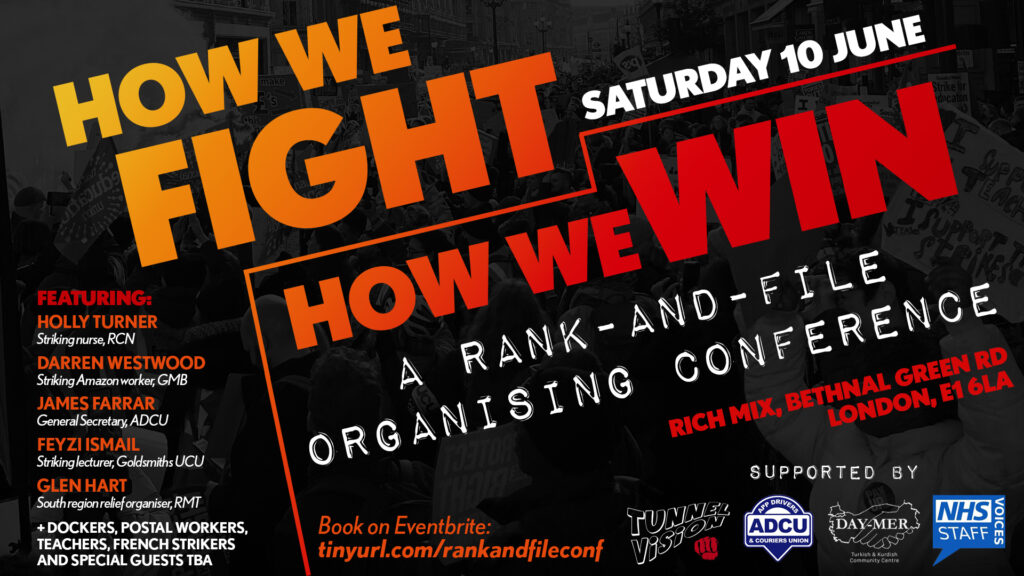 Before you go
If you liked this article, please consider getting involved. Counterfire is a revolutionary socialist organisation working to build the movements of resistance and socialist ideas. Please join us and help make change happen.
Tagged under: