Author

Date

1 September 2021

Type

Share button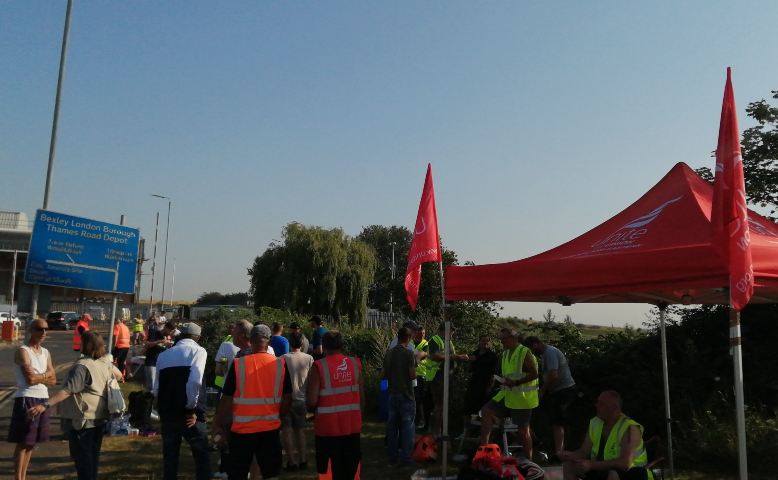 The determination of striking refuse workers in Bexley has resulted in a big win for the workers, reports Jamal Elaheebocus 
Refuse workers in the London borough of Bexley have voted in favour of a new pay deal, ending their strike after seven weeks.
In a major victory for the workers, Serco agreed to offer a £750 payment to 19 staff and make changes to contracts which will reduce pay disparity between workers. The striking workers, who are members of Unite the Union, have also won a new pay deal from Countrystyle, the company which will take over refuse collection in Bexley, which will result in significant pay rises and increased holidays. This is a significant improvement on Countrystyle's original commitment to pay workers the London Living Wage.
However, workers have made clear that the strike is only suspended, not called off altogether, and they are willing to go back out on to the picket line if Serco reneges on its promises.
The strike, which was in opposition to low pay and pay disparities between workers, caused serious disruption to refuse collection across the borough. However, it received widespread support from local residents and many have expressed their frustration at the council for refusing to intervene in the dispute.
The council had the option to alter the outsourced contract but instead sat on the fence, insisting the dispute was solely between Unite and Serco.
Despite this, the strike applied enough pressure on both Serco and Countrystyle to ensure it delivered a significant victory. Workers have shown Countrystyle that when they take over, they will not be able to bully and exploit workers without facing a fight.
Unite organiser Willie Howard said:
"All credit to the Bexley workers; they took seven weeks of strike action, faced down a bullying management, police threats of arrest and prosecution, a vexatious council full of lying and duplicitous politicians, a billion pound corporation and the propaganda outfit that went with it. They are heroes of this movement and have set a model as to how we get stuck into councils and contractors that have run this job into the ground over the years. 

This marks six wins out of six refuse campaigns across London. Next month we will be bringing our reps together across London and surrounds and setting a proper, united industrial agenda for the job at hand with a view to coordinated action next year."
There are still significant differences between how much refuse workers are paid in the various London boroughs, most of whom outsource refuse collection to private companies like Serco and Veolia. Hopefully this victory in Bexley will inspire other workers in the industry to take action against low pay and pay disparity.
Tagged under: