Author

Dan Poulton

Date

29 April 2014

Type

Share button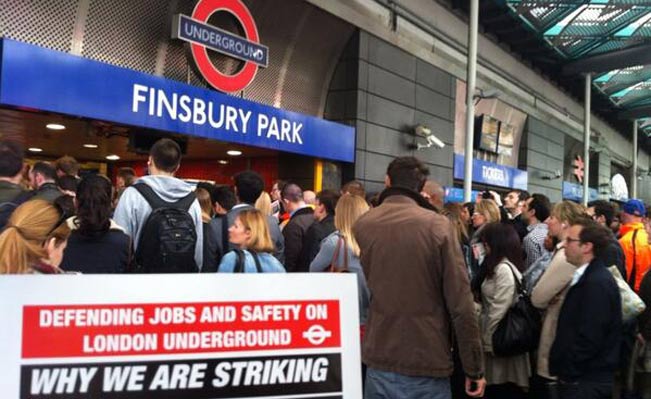 Dan Poulton reports from the Finsbury Park picket line in the battle to save ticket offices from Boris Johnson's closure plans
"Ladies and gentlemen, they're going to close every single ticket office, every one! How safe is everyone going to feel when 953 staff are taken off your stations? That's nearly a thousand less staff to help your wives, your children, your mothers and fathers, disabled people, blind people… 1000 less staff to help all those vulnerable people at stations."
Commuters were probably not expecting to hear an impromptu lecture on health and safety from a RMT striker at Finsbury Park underground this morning, but the message is a popular one. Pickets handed out thousands of leaflets and had been given messages of support from the travelling public.
"No ticket machine has ever assisted anyone when it breaks down. No CCTV camera has ever helped anyone when they're being mugged."
The RMT's message is powerful and cuts across the recalcitrant bluster of the government and all those who attack 'irresponsible strikes'. By tying massive job cuts to travel safety common ground is established between one group of workers – the RMT strikers – and another group of workers, the millions who travel on the underground every day.
"Please support this strike. This is all about safety for the travelling public. One thousand less staff to help the public cannot be in anyone's interest." (watch the full video)
The pickets I spoke to were upbeat about the largely positive reception their dispute has received. One woman stopped by to give her support to the strikes. Victoria Manifold is a Unite member facing a below-inflation pay rise which amounts to a pay cut.
"I disagree with what's happening. I think it's unsafe for ticket offices not to be manned. I heard on the news this morning that it's all about modernising the tube, but it's about saving money at the cost of customers and at the cost of staff.

"This isn't anything other than a slight inconvenience for me, I'm just going to get into work a little bit late but I don't think that matters. I think it's important that they're taking action. It's important for unions to support each other and for striking workers to support each other.

"The 21 June demo is a good idea. Different people are doing different things so it's important to bring them together. I'll come along."
I spoke to RMT's Assistant General Secretary Steve Hedley had come to visit the picket line.
"This is part of 4.3 billion worth of cuts," he told me. "The ticket office closures account for only 6 percent of that. People know that if we don't stand up and fight now there's going to be an unsafe service, far worse service and vulnerable people are going to be affected."
On top of the 953 jobs hundreds of staff in engineering, fleet and lower management also face the axe, he tells me.
"The public have cottoned on that this mayor can't be trusted. He's broken his election pledge of keeping the ticket offices open and I think they're supporting us."

"The strike's very solid, we've had a lot of TSSA members supporting us, a lot of ASLEF drivers supporting us despite the appalling decision taken by their union leaderships. They need to wake up– driverless trains are on the horizon. If the TSSA don't get involved in the strike then they're going to see their members, especially in the lower grades, absolutely massacred."
The People's Assembly 'No More Austerity' demonstration on the 21 June is a crucial opportunity to bring together all the different struggles and campaigns against austerity.
"Getting out on the streets is tremendously important," Steve Hedley tells me.
"If Labour get in we don't want them continuing the Tories' policies. We've got to show that the working class is prepared to fight and we're not prepared to have another two years of Tory cuts."
Tagged under: