Author

Date

18 November 2019

Type

Share button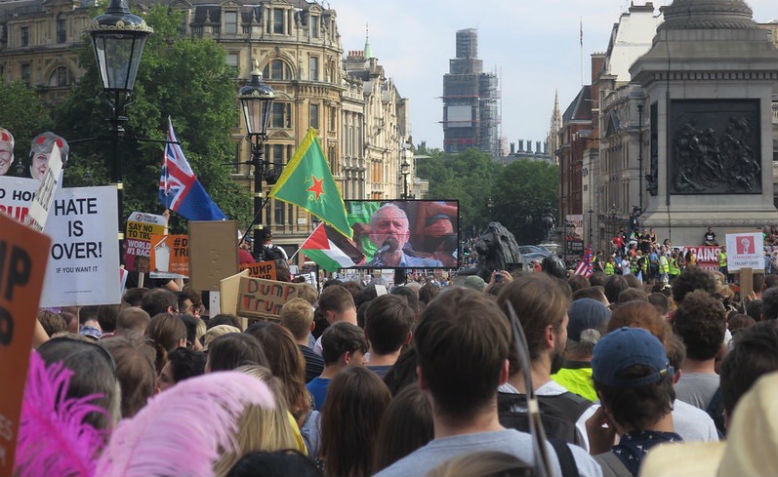 Mass mobilisation against the Trump alliance will give the left a big election boost, argues Chris Nineham
So it's confirmed. Donald Trump is coming back to Britain for the third time in eighteen months. His visit from 2nd to the 4th December for the NATO summit will come just 10 days before the general election. 
His previous two visits have been met with massive midweek protests. The demonstrations sent a message around the world that the majority of people in Britain reject the President's toxic politics, crazed foreign policy, his climate denial and his abysmal attitudes to women, Muslims, LBGTQ people and minorities generally. 
The protests this time round are perhaps even more important.
Jeremy Corbyn has been absolutely right to call out the electoral agreement between Boris Johnson and Nigel Farage as a Trump alliance. This is not only or mainly because it was a move encouraged by Donald Trump on his bizarre phone in to Farage's LBC show. More fundamentally the kind of Brexit both men are committed will involve a US/UK trade deal that will enable a corporate shakedown accelerating NHS privatisation, further hollowing out public services and ripping up what meagre trading standards we currently enjoy. 
Meanwhile at the NATO summit, Trump will be demanding more arms spending, more out of area operations, including expansion in Latin America, Central Asia and the Asia Pacific, and a tougher line against Iran. Prime Minister Johnson will be his biggest cheerleader.
A broad coalition has come together to build the biggest possible protests when Trump comes, focussing in particularly on the heads of states' reception at Buckingham Palace on the summit's opening night, Tuesday 3rd December. Headed up by Stop the War, CND and the international No to NATO network, it includes groups campaigning to defend the NHS, Latin American solidarity organisations, the UK Student Climate Network, the Muslim Association of Britain, Stop Trump, Palestine Solidarity Campaign, Kurdish campaigners, anti-racism groups including Stand up to Racism, women's organisations and trade unions. The mobilisation is backed by radical DJ outfit Refuse Resist Revolt who will be playing out on the day.  
Some have expressed worry that the protest will cut against the election effort. But a mass mobilisation on the night that Boris Johnson joins Donald Trump at a Buckingham Palace jamboree can only give the left a big election boost. Trump has already intervened in the election debate, he won't be able to resist further comment. His presence in London, in mid-impeachment, at the head of the Western military alliance will once again underline the folly of voting for a government committed to deepening the special relationship. 
Activists across the movement need to come together to once again give Trump the reception he deserves. We need to make December 3 a very public, very powerful rejection of Johnson's nightmare vision of our future.  
The demonstration assembles at Trafalgar Square at 5pm on Tuesday 3rd December 
Tagged under: