Author

Date

14 October 2021

Type

Share button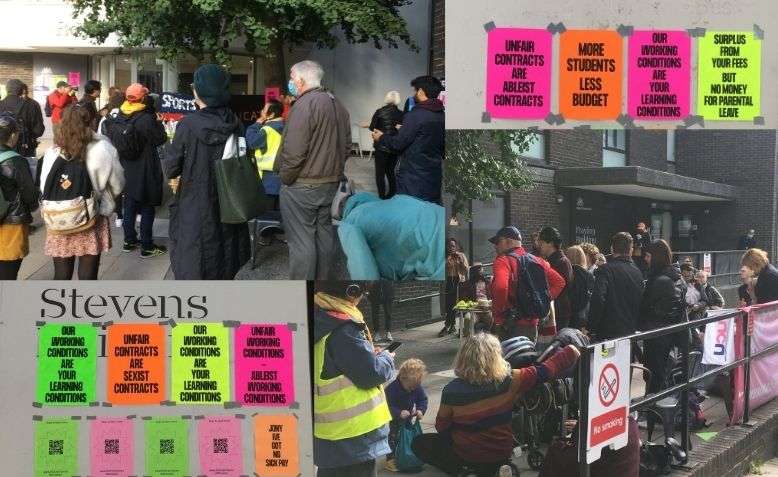 Ground report from one of the solidarity rallies in support of the FE colleges who've entered their second week of strike action
On their fourth day of action, RCA UCU strikers held an energetic solidarity rally alongside fellow striking UCU workers from Further Education Colleges who've entered their second week of strike action. Strikers from Lambeth College, City and Islington College and workers from UAL (preparing for similar battles) arrived in force swelling the numbers on the picket line in solidarity.
RCA strikers are fighting for basic employment rights: an end to casualisation, against unsafe workloads and for the end to discrimination. 90% of RCA workers are on casual contracts. The picket line was lively and colourful with bright posters displaying their demands in multiple languages: 'Royal College of Burnout' 'Unfair working conditions = Racist working conditions'. The solidarity rally was a hybrid of in-person and online with workers speakers from Open University, Liverpool, Croydon College, Goldsmiths and many other Colleges from around the country. Many spoke of the tremendous victory at the University of Liverpool where workers stopped 47 compulsory redundancies, saying 'We know strike action works' Roddy Slorach from imperial college UCU said 'When we say an injury for one is an injury for all, the flip side of that is a victory for one is a victory for all'.
Cecilia, an RCA striker talked of how she was once a student at Kingsway college, one of the FE colleges currently on strike, she and many workers spoke about the importance of linking the struggles in FE and HE.
The striker chairing the rally explained how casualised contracts push the most marginalised into incredibly difficult situations adding "When they talk about having a commitment to equalities or a commitment to diversity, saying those words doesn't mean nothing unless you create the infrastructure that actually does something to protect people". 
Another striker said, "We are asking for basic, basic rights for the majority of the staff here". She and others explained how the financial and business decisions of the university is a choice emphasising "they can choose to do things differently and we have shown them how they can do things differently". The recent victory of 4,000 Open University lecturers being bought in house under contracts of fair employment was a clear example offered.
Joining the rally on zoom workers from Croydon College announced that they had won a pay increase and had called off their strike. Julia and Karen, both from Lambeth College and on their 8th day of strike spoke at the rally. Like many speakers, they re-iterated that the students getting the education they deserve is at the heart of their fight. They told Counterfire Lambeth College more strikes are likely after the half-term aren't if Lambeth College remains intransigent. John McDonnell expressed solidarity and spoke about how education has been being run for profit at the expense of workers. McDonnell said he had received an email from the rattled RCA management ahead of him joining the rally, defending how they treat their staff but failing to mention the end of casualisation.
Further upcoming RCA strike dates are 1st-4th November and 15th November. You can donate to RCA UCU strike fund here https://www.paypal.com/paypalme/rcaucu
Before you go
If you liked this article, please consider getting involved. Counterfire is a revolutionary socialist organisation working to build the movements of resistance and socialist ideas. Please join us and help make change happen.
Tagged under: