Author

Date

17 November 2021

Type

Share button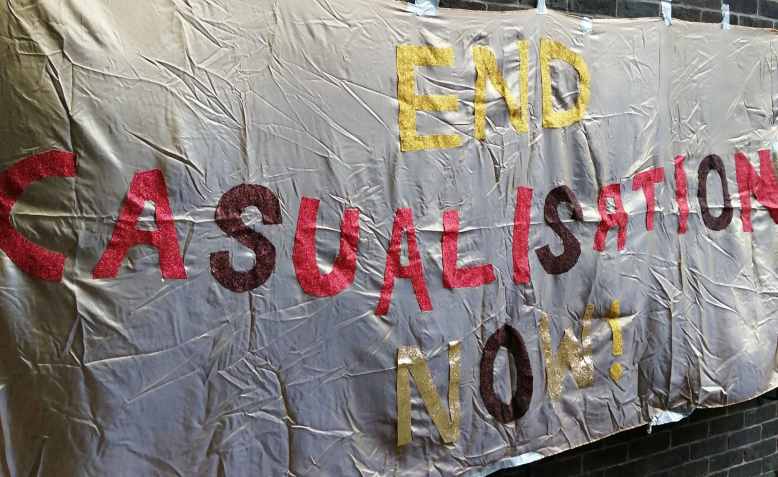 Royal College of Art lecturers increase pressure for fighting back against attacks on terms and conditions of work in Higher and Further Education, reports Peter Bird
A passionate and resolute crowd assembled outside The Royal College of Art (RCA) on Tuesday during a weeklong strike which is part of a rolling programme of industrial action. 
The dispute at the RCA is vitally important in the context of wider industrial action in universities, colleges, and further-education institutes across the country. Casualisation is their biggest issue, but increasing workloads, inequality, and fire and rehire are all problems the RCA shares with other workplaces. 
Since Counterfire reported on this dispute on 15 October, the strikers' unity and resolution have, if anything, increased. While classes weren't running, many supporters that didn't attend the event in person did so online.
Many of the issues are far from new. One lecturer said that he had worked under casual contracts for almost eight years. He was now being offered a contract, but not on parity with other staff; most crucially for him was that, although he was expected to deliver research based learning, the contract didn't include research time, meaning that he would have to prepare his lessons in his own time. Clearly the situation has long cried out for the challenge that is now happening.
Another worker commented that she had waited sixteen years, and had to threaten to leave, before she was given contractual terms. She is now, in common with colleagues, fighting off demands that a two-year MA course be delivered over one 45-week year, thus extracting more work for the same pay, and diminishing the student experience. The University and College Union (UCU) reports that 90% of staff has essentially gig-economy terms without security, sick pay, holiday pay, maternity leave, or pensions.
Support and solidarity
Emma Dent Coad, former MP and local Labour councillor, attended and said that she had graduated from the RCA in 1992; her study had been free and there were well-paid tutors. She would give all the support possible in the current situation.
Online speakers from Glasgow and Liverpool, where they had successfully resisted redundancies, praised the strikers at RCA as an inspiration to others. Aimee Le, a member of the UCU casualisation committee, also praised the action at RCA, and said that there were now, due to the pressure of action taken at branches, discussions in the union that hadn't taken place before. Chris for the GMB union, speaking online, said the trade-union movement is on the rise: "Be proud, stay strong, the trade-union movement is back!"
The biggest cheer came for a first-year student who took the microphone and told strikers that your workplace is my study place. He supported the action, realising that good quality learning should not come from overworked and undervalued staff. He spoke of paying a lot of money in tuition fees only to be regarded, by the institution, as a source of revenue.
Recently, UCU workers across the country have overwhelmingly voted for strike action over pensions, working conditions, and casual contracts. Despite the proposal by Jo Grady, UCU General Secretary, to limit action prior to Christmas, there is a desire to step up the action without delay. The momentum is manifest at the RCA and they are expected to maintain it.
The very upbeat session concluded with music from Chooc Ly Tan, an artist and RCA tutor, and communal singing of 'Power to the People'.
Details of how to donate to the RCA UCU strike fund can be found at: RCA UCU Strike Fund Donations – RCA UCU.
Before you go
If you liked this article, please consider getting involved. Counterfire is a revolutionary socialist organisation working to build the movements of resistance and socialist ideas. Please join us and help make change happen.
Tagged under: