Author

Date

18 February 2023

Type

Share button
Counterfire's weekly digest with the latest on strikes and workplace struggles
You can sign up to receive News from the Frontline straight in your inbox
1 February was a major success in our battle against the bosses, but it has to be broadened and deepened. As with all union work, the key is unity.
The NEU and PCS are good to go for 15 March. The RMT will be striking on National Rail on 16 March – in coordination with teachers and civil servants, but starting the following day so that the national demonstration and picket lines aren't undermined.
But there are many unions with live ballots who have yet to commit. Making this happen is a job for everyone. One thing is crystal-clear; the TUC won't lift a finger.
Counterfire's model motion is designed to bring practical assistance to mustering and mobilising. Get it out there and get it used.
The Office for National Statistics (ONS) have just declared the second half of 2022 the highest incidence of striking in thirty-four years. This is great, but it isn't enough. 15 March is Budget Day and our side has to take to the streets and take it over.
The CWU result (96% on a 77% turnout for strike continuance) is proof the fight is still out there. Let's get it focused. Our fight with the Tories demands it. Read Counterfire's recent editorial: All out together – Strike 15 March.
UCU members angry as Jo Grady calls off strikes
The latest move by UCU General Secretary Jo Grady to call off 7 days of strikes to allow a period of 'calm' for negotiations to continue reveals a combination of ineptitude, disregard for members and a disdain for union democracy that really takes some beating. Counterfire UCU members explain why this is a terrible, undemocratic decision and what rank-and-file UCU members must do to challenge the union bureaucracy.
Construction workers bite back
It could be a hot/cold spring if the employers don't wake up and treat their workforce with a little respect. Construction workers at the Sizewell power station "cabined up" (in effect, a wildcat strike) this week, in the ongoing campaign among construction workers for increases in the bonus rates on NAECI sites (see NFTF's reports from Petrofac, Milford Haven, BP Fawley, GSK Irvine and others).
This campaign is facing two hostile forces – a national agreement over which they have no say, and employers determined to impose an agreement which effectively limits the pay of workers on sites outside the agreement.
The construction workers' Rank and File Committee has been protesting for literally years over the way employers have been using a system that workers regard as corrupt. They are frustrated with their union, Unite, for (in their eyes) colluding with it, through the acceptance of the old (now defunct) Union of Construction, Allied Trades and Technicians (UCATT) into Unite.
The plus side of this tension is the continuing tradition of independent rank-and-file organisation, combined with on-the-spot unofficial action. The downside is a resultant low level of unionisation among this section of construction workers which means yesterday's battles have to be repeatedly fought, over and over.
Coventry Amazon workers to strike
GMB Amazon workers in Coventry who are fighting for £15 an hour while paid a pitiful £10.50 have announced 7 days of strike action. The 350 workers will strike on 27 February, 2 March and for the whole week of 13-17 March. The workers were the first-ever Amazon workers in Britain to officially strike when they took to the pickets on 25 January.
The GMB say they are discussing whether to ballot 200 members at the Amazon warehouse in Tilbury in Essex. Hear from Amazon strikers and head of the US Amazon Labor Union, Chris Smalls, at the meeting in London on Monday 20 February.
Right Royal mess in Renfrewshire
Scottish Nationalist-led Renfrewshire council may now regret being mean about bank holidays last year. Unbelievably, while most people in Britain were getting a four-day weekend on the event of the Queen's jubilee, bin workers in the West Scotland area discovered that they were docked pay and lost holiday for doing what everyone else was doing – something the employers did not do to other council workforces.
Adding to staff outrage, one employee who was on sick leave due to a cancer diagnosis was also docked! The GMB is now balloting the bin workers to strike.
NASUWT members take strike action at private schools in Coventry
Teachers working at the Coventry School Foundation walked off the job on Tuesday 14 and Wednesday 15 February over a pay offer.
NASUWT members voted to take industrial action at the school, which has recently been formed via a merger between King Henry VIII school and Bablake school, after management went back on their promise of an improved pay award.
Staff were promised a pay offer linked to the state sector, but this has now been pulled and instead management are offering just a one-off payment of £300. Bosses imposed a 2.75% pay award on teachers for this year despite inflation running at 11%.
A striking teacher said:
"Members have been left with no choice but to take industrial action after our pay offer was withdrawn by the employer. They increased the fees paid by our hard-working parents around 11%, only to squander it on consultancy fees and expensive, new, non-teaching executive positions.

"This has been to the detriment of teaching staff, those that can really make the difference to students' education. Members here are frustrated and disappointed at the disingenuous way our employer has chosen to engage in pay negotiations. The employer had committed to making a pay offer for 2023/24 which would be linked to the state sector pay offer with an additional percentage. But this was withdrawn at the last minute."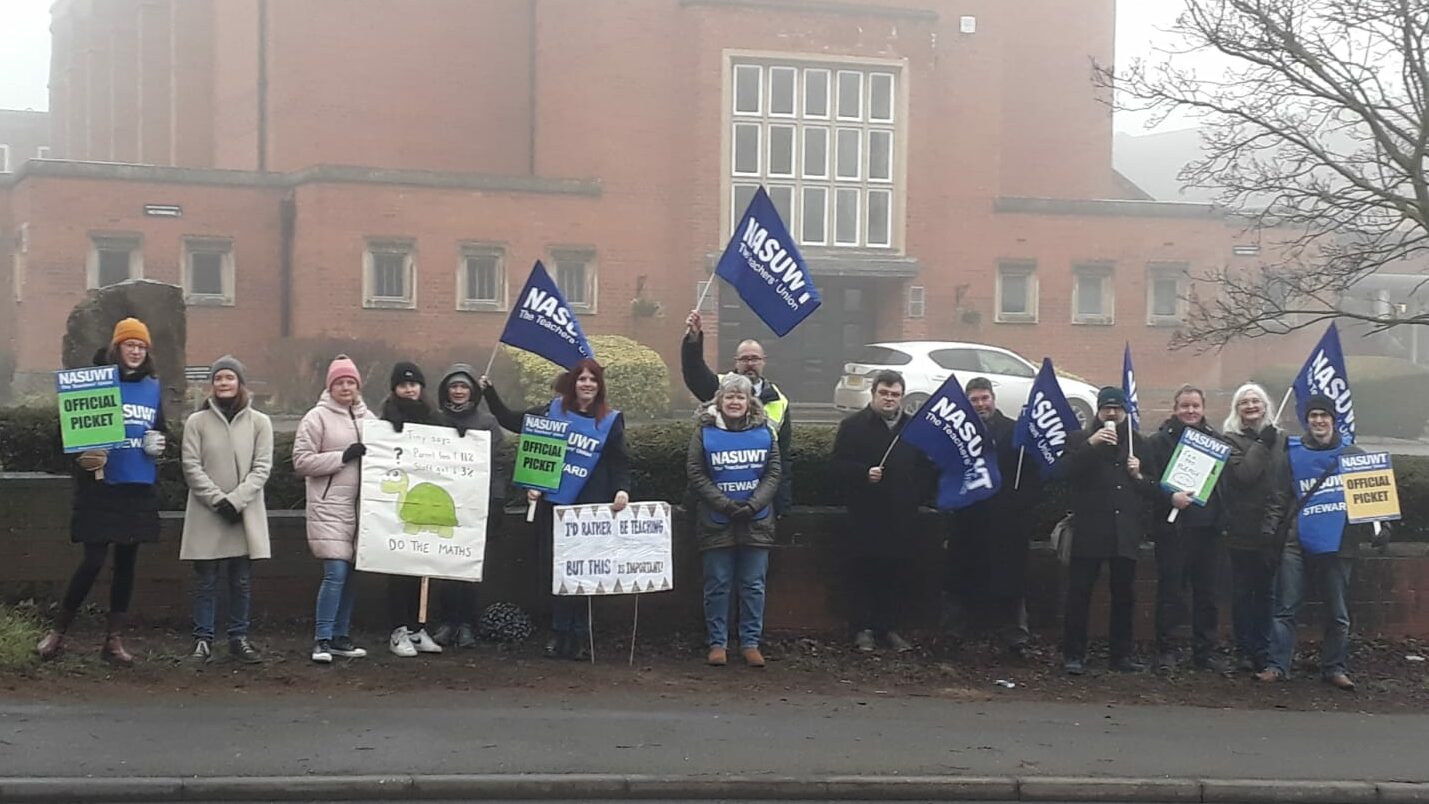 Stormy seas ahead for offshore energy sector
The super-profits enjoyed by the energy sector have sparked unrest right across the sector: 300 offshore construction workers employed by Stork are balloting over pay and the widely loathed 3-on/3-off rotas imposed by the company.
The Unite union reported a 96% vote for action on a 94% turnout in a consultative ballot, and the legally required ballot is due to close in mid-March. They could be joined by the union's 700 members employed by the Bilfinger group, and the 3,000 members employed by UK Power Networks, meaning the offshore energy supply and the on-shore power generation could suffer significant disruption at the same time.
Cleaners go nuclear over broken promises
Sellafield nuclear powerplant's large cleaning workforce have voted to go on strike after the plant management reneged on a promised improvement on pay.
300 GMB members were balloted after an increase failed to materialise in November. The employer is now offering to make a pay rise from April – as well as offering some laughable benefits like vouchers – but talks are unlikely to avoid a stoppage unless back pay is made.
Honest Burgers: if in doubt, unionise
Deluxe burger chain Honest Burgers are "consulting" its staff over the withdrawal of paid lunch breaks it was compelled to introduce during the pandemic.
The burger chain has 45 branches around the UK. The "consultation" has the threat of fire and rehire hanging over it.
The bosses are screaming increased costs from the rise in the National Minimum Wage. This isn't union business unfortunately, but it should be.
If "No return to the Old Normal" means anything, it means workers in fast-food places (posh or otherwise) getting unionised. Our movement has to use the present strike wave to sweep unionisation throughout our class. Do you think for a minute that the bosses in those places are unpaid during their lunch hours?
Monday's Striking Back: How We Win event at SOAS University of London fits like a glove here. London and the South East readers should make every effort to attend.
Ancient pay rates don't belong in a museum
The British Museum was open with reduced hours this week, and fully shut on Friday, as PCS members were on the pickets the whole week. Picket lines were lively and well attended with many workers from NEU and UCU as well as other unions joining in solidarity.
PCS escalates strike action at DVLA and land registry
DVLA staff working in stores will be striking alongside their colleagues at the Land Registry the PCS union has announced. The union has called 5 days of strike action, from 27 Feb to 3 March, as part of its national campaign over pay, pensions, job security and redundancy terms.
These dates for industrial action will see around 350 union members striking at Land Registry sites in Birkenhead, Coventry, Croydon, Durham, Fylde, Gloucester, Hull, Leicester, Nottingham, Peterborough, Plymouth, Swansea, Telford and Weymouth.
DVLA members will also be striking at Output Services Group at Ty Felin and Morriston in Swansea from 13 February for 5 days.
PCS general secretary Mark Serwotka said:
"As long as the government shows no sign of resolving this dispute, we'll show no signs of stopping strike action.

"Ministers seem able to find money for just about everything other than giving their own employees a decent pay rise. PCS members have had enough of being taken for granted."
RCN announces strike escalation in England
As RCN members in Wales vote on whether to accept a 7% pay offer and strikes in Scotland are postponed to allow for negotiations, the RCN in England is considering escalating from 12 to 48-hour strike action as ministers continue to refuse to meet with union leaders. The RCN have said that A&E and ICU nurses will also be included in the next round of strikes.
With over 40,000 nurses prematurely leaving the profession since 2018 and falling recruitment numbers a 48-hour strike may be a much needed wake up call for Westminster.
Airport workers threaten to take off over Easter
More than 3,000 engineers, security guards and firefighters employed by Heathrow Airport Ltd (HAL) start voting this week over action on pay.
The Unite union members have already rejected the company's offer of 10%, stating that, with inflation currently at 13.4%, it amounts to a real-terms pay cut. The ballot is due to close on 17 March, meaning that they could shut the entire airport over the Easter period.
HAL must be aware of the resentment felt by their workforce, who feel they are suffering, in the words of one rep:
"A double whammy – the company attempting to smuggle through a pay cut, whilst we are still coping with the effects of their 'Fire and rehire' attack during Covid."
Striking German airport workers who shut down seven airports showed the strength they have, and will hopefully inspire airport workers at Heathrow to take similarly-decisive action.
5 things to do this week:
If you're in London, join the 'Striking back – How We Win' Meeting on Monday 7pm at SOAS with striking Amazon workers, a striking nurse, Chris Smalls from the Amazon Labor Union, Jeremy Corbyn, James Farrar from the ADCU
Raise this motion in your branch to call on all unions with a live strike ballot to come out on March 15th
Get down to a PCS picket line near you
Help build the 11th March SOS NHS demonstration
Donate to the RCN strike fund
Help fund the fight for socialism
Counterfire is growing, but we want revolutionary socialist organisation in every corner of the UK. We've launched a crowdfunder to employ more organisers, put on more events and produce more publications. Please help us reach our target and donate today.
Tagged under: