Author

Ross Maidment

Date

12 October 2022

Type

Share button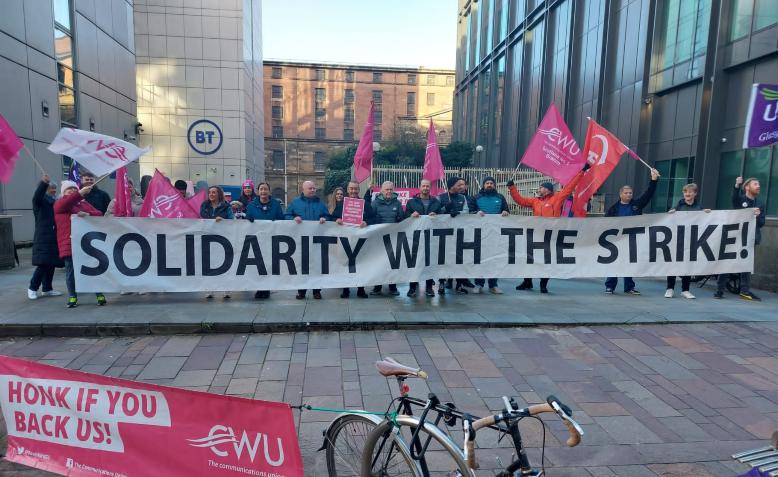 Ross Maidment reports from the picket line in Glasgow as 999 emergency call handlers join thousands of BT and Openreach workers on strike this week
Thousands of emergency service call handlers have been out on strike this week in a dispute over low pay. They have joined other Communication Workers Union (CWU) members from BT and Openreach in their fight against CEO "Foodbank Phil" Jansen and senior management.
We caught up with the Alexander Bain House picket line in central Glasgow on Monday. Catherine told Counterfire: "I have been doing this job for 43 years. Coming out on strike was a very difficult decision to make." She works in a department that had to continue operating during the Covid-19 lockdowns, at great risk to herself, colleagues, and families, often without a break to keep up with demand. "When I heard the pay offer, I had never felt so disrespected. We had to act."
It is understood that call-centre workers are some of the lowest-paid employees of BT Group. In June, it emerged that a BT call-centre in North Tyneside had set up a "community pantry" to help those struggling to feed themselves at the end of the month.
Staff at BT's North Tyneside call centre can pick up oats, instant noodles, dried pasta, cereal and even baby food when it's "those last few days before pay day and you need something for tea" pic.twitter.com/pJUPgDvtAL

— The Big Issue (@BigIssue) June 23, 2022
Martin, who started the job just over a year ago, had been taking around 1,000 emergency calls a day after the height of the pandemic. Like most young people entering full-time employment, he would simply like to one day get a mortgage and not struggle to pay the bills.
"We've got to fight back or that will just get harder and harder."
When asked about the lively picket line support and strikes happening in different sectors, both looked pleased. Catherine remembers the 80s, when trade unionism was part of the day-to-day discourse: "It's great to see people taking a stand. This government will drag us back into the Victorian age if we allow it."
For Martin, it is a fresh idea with new vocabulary: "I walked into the office this morning, only to remember we're not working!" On strike days, the call centres are being run by agency call handlers and team managers with limited capacity and experience.  
CWU is contesting the £1,500 annual pay rise to 58,000 engineers, retail staff and call centre workers at BT; an average raise of less than 5% when inflation is over 10%. To add further insult, it is reported that CEO Phil Jansen awarded himself a 32% pay increase to £3.5million in the last financial year.
Before you go
If you liked this article, please consider getting involved. Counterfire is a revolutionary socialist organisation working to build the movements of resistance and socialist ideas. Please join us and help make change happen.
Tagged under: