Author

Date

5 May 2017

Type

Share button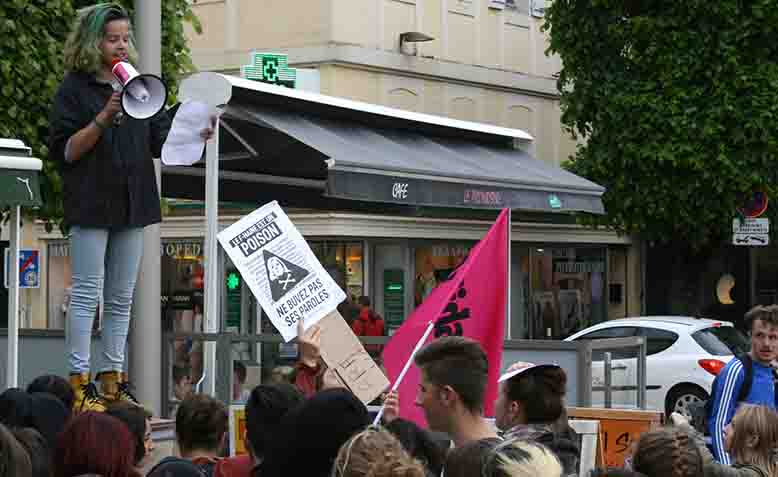 Just before the final round of France's presidential election, lycéens (high school students) are continuing to provide the sharpest and most combative opposition to the two contenders
Hard on the heels of last week's actions, which included the blockading of schools in Paris, Rennes, Nantes and other centres, on May 5 thousands of lycéens were out on the streets again. By the start of the school day, the entrances of numerous Paris lycées, including Colbert, Voltaire, Claude-Monet and Arago, had been made impassable by stacks of wheelie bins and random pieces of heavy furniture. Similar barricading was under way in other big cities, including Toulouse (Lycée des Arènes) and Lille (Lycée Pasteur). In an ever-lengthening list of cities, including Lyon, Clermont-Ferrand and Chateaubriant, students took to the streets to voice – loudly, boisterously and with unending ingenuity and passion – their disgust at the pseudo-choice confronting adult voters on Sunday, and at France's current cataclysmic political crisis.
Aided by social media, this strength of feeling, this anger on the part of not-yet-voting-age young people of being debarred from the shaping of their own future, has spread rapidly over the past few days. In the small town of Auch, capital of the department of the Gers in Southwest France, lycée students last week organised themselves into Les Lycéens Engagés du Gers (high school activists of the Gers) and began planning their first actions. They were there at Auch's May Day rally, and this morning they acted as the political vanguard of their town by marching through its streets, chanting slogans, playing music, waving home-made placards and generally having a ball.
Particularly impressive were the organising abilities in evidence. The students had already won support from trade union organisations in the town and from an anti-racist coalition. As soon as I joined the march, I was handed a leaflet setting out the goals of the action: to mobilise against hate and for peace, against fascism and for tolerance, against liberalism and for class equality. Citizens of the world, rise up in protest! (Citoyens du monde, indignez-vous!), the flyer enjoined.  
From their starting point outside one lycée, the students planned to march to another, where they hoped others would join them. "It's been a bit difficult getting these particular students involved", explained Emma, a talented basketball player with excellent English. "It's regarded as the top lycée in Auch, and the students tend to be a bit aloof. We've been speaking to them, messaging them, but so far nothing much. We'll see how it goes…" 
As they marched, all the while handing out leaflets to motorists and passers-by, the students cautiously began raising slogans, then became increasingly emboldened as they chanted:
 "Lycéens en colère! Nous sommes tous en galère!" (Lycéens are angry, we're all in for hard labour/ we're all galley slaves!)
"Le Pen est foutu! La jeunesse est dans la rue!" (Le Pen has had it! The young are in the streets!)
Another slogan, drawn from a Bérurier Noir punk rock number of 1989, was a particular favourite: "La jeunesse emmerde le Front National!" (young people say f*ck the FN). 
By the time we reached the second lycée, a megaphone had appeared and Manon, a petite female student, was ready to put it to use by making the first speech of the day: a clear statement of the goals of the march, delivered with confidence and power. When the school gates opened for break, more lycéens joined the march, swelling the numbers to well over a hundred.
As we continued through the town, making our way to the Place de la Libération for a town centre rally, it struck me that Manon's political boldness seemed emblematic of something important: the central role being played by women in this demonstration and in this new organisation. There they were, taking charge at every stage: Lola on her scooter passing up and down the line of marchers and occasionally liaising with the police escort; Juliette up at the front, keeping things coordinated, then later addressing the final rally in the Place de la Libération with passion and eloquence (she later showed me her speech, handwritten on a scrap of paper). In a country where men still heavily dominate the political sphere (not a single woman spoke at Auch's May Day rally), these women students seemed to embody an impulse for change reaching well beyond current political concerns. Feisty, confident and fearless, they seemed symbolic of a new turn, a rising assertiveness on the part of young French women.   
Juliette closed her speech at the town-centre rally by emphasised the ongoing nature of the action. "Whatever happens on Sunday, no matter which of the two candidates wins, we're going to continue! Because whatever the outcome, it's going to be bad for us. We have no illusions about that!" 
Quite what form the next action by the Lycéens Engages du Gers will take is not yet clear. But Philippe Poutou of the New Anti-capitalist Party NPA) is coming to Auch later this month, and the lycéens are eager to meet him. They know all about him following his go-for-the-jugular verbal assault on Le Pen during a TV debate before the first round of polling.  "Wow, he's coming here, to Auch?" was their incredulous reaction when told of his visit.  
Small-town France is escaping from political obscurity, and the lycéens are leading the way.
Tagged under: