Author

Date

10 April 2018

Type

Share button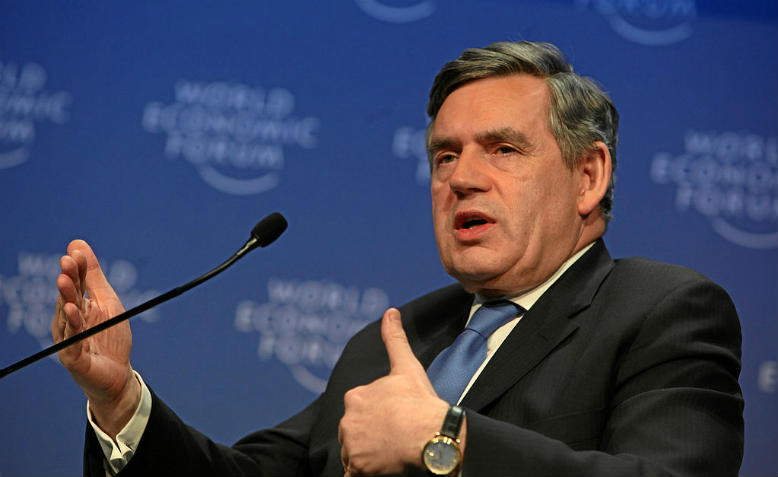 As Jeremy Corbyn meets with Gordon Brown, Chris Bambery looks at Brown's role in the 2014 Scottish independence referendum and the current state of Scottish Labour
The news that Jeremy Corbyn has had a meeting with former prime minister Gordon Brown to discuss what possible life in Number 10 might be like has hardly set the heather alight. Few of Corbyn's supporters will be enthused by the idea that Jeremy might be listening to the former Labour leader. As Chancellor in Tony Blair's New Labour government, Brown was a model of neo-liberal orthodoxy. While you cannot blame him for the 2008 financial crash you can blame his and Blair's love affair with the City of London, encouraging ever greater reliance on the fortunes of finance and the banks with serious consequences.
The news of this tête-à-tête will be met with even greater coolness in Scotland. Brown is still held up as a big-hitter by sections of the media, those that support the unity of the UK, in particular the Daily Record, the Scottish stable mate of The Mirror. The news of their meeting was revealed by the paper.
Back in 2014, as the referendum on Scottish opinion was drawing to a close, opinion polls suddenly gave the pro-indy Yes side a lead. There was panic at Balmoral where prime minister David Cameron was ensconced with the Queen. Cameron had understood he was too posh and too obviously a Tory to lead the "Better Together" No campaign and had left that to Scottish Labour: Alastair Darling, Jim Murphy and Douglas Alexander (names that would hardly attract a crowd today). Their campaign was dire, based on trying to scare people from choosing independence, and now Cameron faced with disaster was forced to call Gordon Brown to bail him out.
Brown had stood back, not wanting to be involved in a campaign he didn't control, but with Cameron now begging for his help, rose to the occasion. What Brown did in the final days of the campaign was eschew Better Together and issue an appeal to traditional Labour values; the achievements of the 1945 Atlee government in particular. At one stage Brown went as far as sharing a platform with George Galloway, who must have hoped this was his ticket back into Labour. Project Fear was still in place though with a scare campaign that any break away would see the state pension cut (the No side had a lead among the over 55s).
Yet this wasn't enough. The editorial team at the Daily Record came up with another wheeze. Just before polling day it ran a front page featuring The Vow, signed by Cameron, the UK Labour leader, Ed Miliband, and deputy prime minister and Lib Dem leader, Nick Clegg, promising that if Scotland voted No they'd guarantee extra powers for the Scottish parliament. The paper told its reader Brown had brokered this "historic" pledge. He boasted The Vow would create "jobs and justice," bringing Home Rule to Scotland.
It remained a dead letter and left a bitter taste in Scotland.
At the 2015 UK general election, Scottish Labour was reduced to one seat in a country that they had taken their support for granted in for decades. Two years later Scottish Labour took seven but trailed the Tories, let alone the SNP.
The problem for Scottish Labour in that campaign was that its leadership had run a campaign which focused almost entirely on attacking the SNP government and its pledge to hold a second independence referendum. But they could not out-do the Tories in playing the Unionist card. There was little or no mention of Corbyn although the relative increase in support was clearly attributable to him and his left wing message.
Since then a left winger, Richard Leonard, has been elected leader of Scottish Labour. It seemed that a Corbynista wave would sweep the country as it had done down south. But Leonard has not made the impact predicted. His performance in the Scottish parliament has been gaffe prone, he's bent over backwards to involve his opponents and carried on directing his fire against the SNP and independence. Meanwhile the much heralded Tory revival has been punctured.
This has created a strange situation in Scotland where the SNP government seems stuck in the doldrums, hardly inspiring its membership let alone the wider pro-independence camp, but it is not taking any hits because the opposition can't find the net.
Meanwhile supporters of independence, many SNP members but by no means all, have revived grass roots organisations, particularly the old Yes groups dating back to the referendum four years ago. Last month there was a Hands Off Our Parliament protest in Edinburgh when thousands linked up round the Scottish Parliament in protest against the dilution of its powers post-Brexit. Next month a national pro-independence protest is being organised.
Events in Catalonia have been a major factor in re-invigorating the pro-independence movement, as I've explained elsewhere.
Scottish Labour seems locked into a war with not just the Scottish government and the SNP but also the wider movement, despite the fact that many of those in Scotland who are closest to Corbyn's programme tend to be pro-independence.
The obvious solution would be for Labour in Scotland to come out clearly in favour of Scotland's right to vote on independence while championing a federal Britain with extensive powers for the Scottish parliament. Personally, that's not what I'd want but it could get Scottish Labour off a hook. Yet, they seem determined to stay stuck in a war of attrition with the SNP. Last week Labour blocked with the Tories to remove the SNP's majority on Falkirk Council's ruling executive committee. After last May's elections the SNP were the biggest party but had no overall majority. Labour refused their offer of a coalition.
Scottish Labour has inherited a long tradition whereby the party has not just focused on Westminster but celebrated it. That's been true of the left in the party. Way back in 1979 Robin Cook and Brian Wilson were up front in urging rejection of a devolved Scottish parliament in a referendum initiated by a Labour government.
Gordon Brown took the opposite position but he shares that tribal hatred of the SNP. In last year's Westminster general election he and Alistair Darling signed a letter to pro-Unionists in seats Labour believed it could win arguing:
No matter which party you normally vote for, it's only a vote for your Scottish Labour candidate that can stop the SNP here.
Such an appeal to Tory votes achieved little apart from leaving an even more bitter taste among those sympathetic to independence.
Here I have to confess my recollections of Gordon Brown go back to when I was an undergraduate at Edinburgh University and he was the elected Rector. The campus wide election of a student had created a storm. Brown had revealed the Vice Chancellor had lied about the University holding shares in Apartheid South Africa, forcing his resignation.
In September 1973 I recall vividly, following the gruesome overthrow of the Allende government, Gordon Brown inviting the Chilean ambassador to address a packed rally at the University. Brown gave an excellent and emotive speech.
His politics were Labour associated with the paper Tribune (in today's terms soft left). In his latest missive, "My Life, Our Times," he takes great pride in mentioning that he broke the University Labour Club away from its involvement in a Socialist Society and from the influence of the International Marxist Group to which I belonged.
In 1975 he edited "The Red Paper on Scotland," whose contributors included Tom Nairn, John McGrath, Robin Cook, Jim Sillars and Vince Cable, then a Labour Councillor in Glasgow. In his own piece Brown wrote:
What this Red Paper seeks to do is to transcend that false and sterile antithesis which has been manufactured between the nationalism of the SNP and the anti-nationalism of the Unionist parties.
He's come a long way from those days in so many ways, not least from that particular aim.
Tagged under: