Author

Date

10 March 2023

Type

Share button
Counterfire's weekly digest with the latest on strikes and workplace struggles
You can sign up to receive News from the Frontline straight in your inbox
More than 17k NHS consultants (86% of the vote) England have voted for strike action in a consultative ballot by the British Medical Association (BMA).
The BMA have demanded the government present a "serious proposal" before 3 April or they'll proceed to full ballot with members getting their papers by 17 April.
The BMA's Dr Vishal Sharma says:
"Our position is clear. We will not allow the Government to continue to degrade consultants' pay and pensions. This is having a hugely detrimental impact on patient care as staffing numbers plummet and things will only worsen unless we take a stand. Strike action is always a last resort and we have set out a clear timeline for the Government to put a serious proposal on the table. It is within the Government's gift to pay doctors fairly for the crucial, lifesaving work they do and there are clear, straightforward solutions to fix the punitive pensions tax rules."
The BMA is hardly a "red" union. This is more like the Tory austerity chickens coming home to roost. Let's hope this is reflected on this Saturday's NHS demo.
15 March and the rank and file
Next Wednesday, 15 March, is set to be the biggest day of united strike action since the beginning of the national strikes last June with an estimated 700,000 workers walking out. NEU teachers, PCS civil servants, BMA and HCSA junior doctors, UCU lecturers, Amazon workers, RMT and Aslef rail and London Underground workers and more will be striking together.
There is a national demonstration in London which will end in Trafalgar Square and bring the city to a standstill as the Tories announce their budget. It will be an important show of mass resistance as well as a step forward in uniting the struggles.
This unity hasn't been automatic, it's been fought for, and we're going to have to keep fighting for continued unity and escalating the struggle. The good sense of rank-and-file trade unionists recognising the importance of amplifying our power by striking together has had an impact on union leaderships, and if we want to see more unity and a more effective strategy then we will need more rank-and-file organising.
To that end, as well as getting out on the picket lines and the streets on Wednesday, it's important that as many trade unionists as possible get down to London on 10 June for the How We Fight, How We Win Rank-and-File Organising Conference. Pass a motion at your union branch or local trades council to make the case for rank-and-file organising and to get people to book for the conference.
Unison: Care Quality Commission staff to strike
Over 700 workers have voted to take strike action over pay after a ballot which also included an Asos (action short of strike) decision.
The Care Quality Commission (CQC) is part of the Department of Health & Social Care of the United Kingdom. It was established in 2009 to regulate and inspect health & social care providers in England. It's based in East London.
Unison's Matthew Egan says:
"CQC staff have had to put up with their pay rising at a much lower rate than inflation for more than a decade. Had wages kept pace with prices, employees at CQC would be earning around a quarter more than they are currently. It's not hard to see why so many have voted to strike."
Let's hope this is the beginning of a strike turn within the UK's largest public sector union.
A women's strike wave
This week was International Women's Day – a day that originated in the struggles of working women. Read more about German socialist Clara Zetkin and the origins of IWD, women and the current strike wave, and this interview with Catherine Meecham, an Amazon driver.
Civil Service workers take action over pay
In addition to the large number of them out next week, members of the PCS union in a range of government departments struck this week to demand inflation-matching pay rises. Workplaces taking action include the Office for Standards in Education (Ofsted), Department for Education and Ministry for Justice, as well as more minor actions taking place in Isleworth Driving Test Centre and the Military Training College.
The government continues to seek to impose minuscule pay "offers" on centrally administered departments and is not even making the cynical one-off payments that are being used to divide off other groups of workers.
FBU takes government offer
FBU members have voted overwhelmingly to accept the government's offer of 7% for 2022 and 5% for 2023 after the unions executive recommended members to accept the offer. 96% of the 84% of members who voted accepted the deal.
RPI for July, the date of the deal was 12.3% so this represents an under-inflation deal. The current rate stands at more than 13%.
It's surprising that the offer was so overwhelmingly accepted given the amount of rank-and-file members who were pointing out that it amounted to another real-terms cut and the danger for other public sector workers is that the government will point to this offer as a base for what's acceptable.
Norwich City College lecturers join strike wave
Also out on the 15th will be UCU members at City College Norwich, who are taking two days of action, after rejecting an offer so low that the union has declared that college is no longer a "living wage employer".
The college operates with a cash surplus but claims it cannot raise pay in line with inflation.
'Talking' with the Tories won't save the NHS
Ambulance workers in Unison, GMB and Unite were set to continue their next round of strike action this week, but the union leaderships called off the strikes at the 11th hour after the government offered "talks". Unison and GMB were first to cancel, Unite did so after further "assurances" from the government that increased pay that won't come out of the existing NHS budget was on the table.
This follows the RCN cancelling strike action for nurses on the promise of talks from the government. It is becoming a dangerous precedent that unions call of strike action at the mere offer of talks – with no tangible improved offers.
The fact that the government has been forced into talks which they were previously refusing to do is because of the pressure created by the strikes and the unwavering mass public support for them. There is neither legal obligation nor strategic sense in lifting this pressure when no actual progress has been made.
The RCN, Unison, GMB and Unite have all said they have called off the strikes as a show of "good faith". Why are we showing good faith to a Tory government that has nothing but contempt for working people? For both groups of health workers, the Tories have said part of the talks will be about increasing "productivity" and "efficiency" – read working health workers even harder than they already are. None of the unions should be accepting even the premise of these kinds of strings attached to increased pay.
The unions have from the outset made clear that these disputes are bigger than the pay of individual groups of health workers, but about the wider crisis in the NHS driven by underfunding and privatisation. This is a battle for the survival of the NHS itself – so why break the momentum and unity of health workers at such a crucial juncture?
Plus ça change: French strike report
"Trade union leaders, including the more radical among them, if we are speaking of the mass confederations, are professional negotiators. Even if, in France, union leaders do not receive the hugely inflated salaries they do in the UK and elsewhere, they do not put fightback at the centre of the strategy."
Don't miss John Mullen's acute analysis of this week's pension revolt.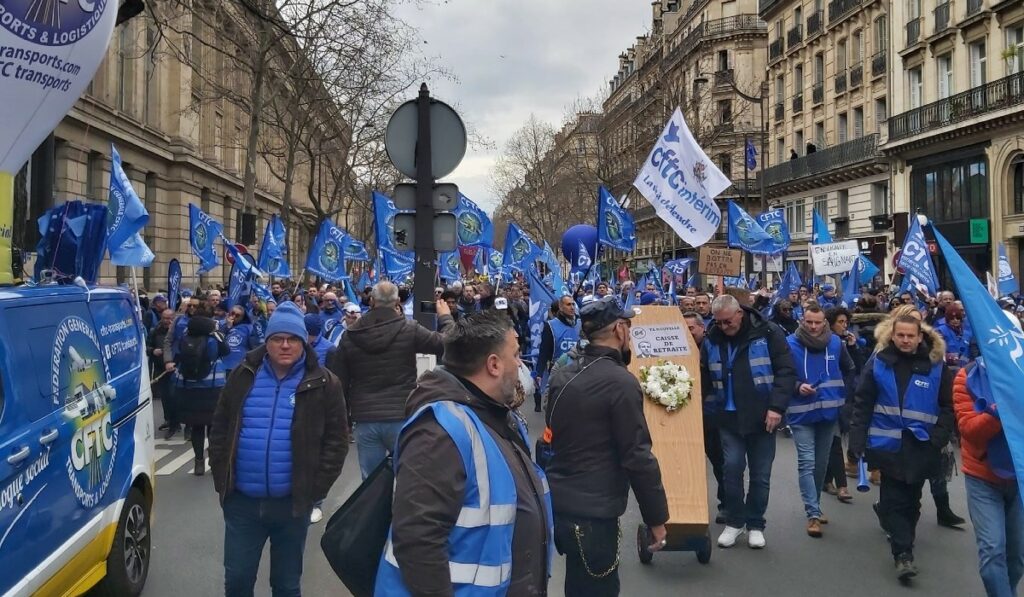 Before you go...
Counterfire is expanding fast as a website and an organisation. We are trying to organise a dynamic extra-parliamentary left in every part of the country to help build resistance to the government and their billionaire backers. If you like what you have read and you want to help, please join us or just get in touch by emailing [email protected] Now is the time!
Tagged under: