Author

Date

17 November 2022

Type

Share button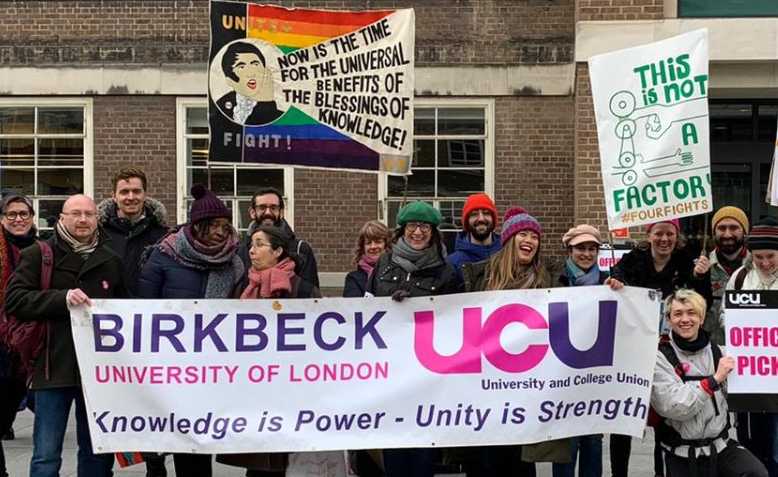 Counterfire spoke to a UCU member at Birkbeck, University of London about the redundancies proposed by management.
What is the scale of the attacks threatened by Birkbeck management?
Relative to the overall size of the college, the 140 redundancies proposed by senior management are eye watering in scale. They are also relatively concentrated within the arts, humanities and social sciences, threatening to decimate departments including my own (Film, Media and Cultural Studies). But far worse than the scale is the sheer recklessness of the proposals which have been made without any strategic plan for both the hidden costs (for example, reputational damage and shattered staff morale) as well as the tangible costs of having to close programmes. In many departments, the planned cuts – including up to 50% of administrative staff – will make it impossible to run some programmes that actually produce a surplus for the College.
How do they justify these redundancies?
The central justification is the downturn in student recruitment post Covid. Traditionally, the typical Birkbeck student was a working Londoner who could fit evening classes around their daily commute. Now post Covid, the College is worried that many of those people are now working from home or moving out of London. No one's denying that there are real financial pressures on universities after two decades of Tory rule, and successive governments since Tony Blair's progressively decimating the public-university model. And those pressures have obviously been compounded by Covid, Brexit and intensifying competition within the sector.
But the idea that the College is on the verge of insolvency – something that has been pressed to colleagues internally – is a constructed myth. The College is sitting on over £100m of reserves built up by years of surplus (including two of the last four financially reported years). It has millions more in expensive London property, some of which has barely been used since Covid, and they splashed out £35m on buying Student Central just last year. So even if the current downturn suggests a risk of long-term decline, they could have bought time and absorbed deficits for the next two to three years whilst working on a proper programme for growth. Instead, they just wielded the axe.
It's hard not to be cynical and think that the post-Covid drop in recruitment is being used as a pretext to rush through plans that have been in the pipeline since before Covid. Management have consistently maintained that the proposed redundancies were an emergency response to the downturn in recruitment this year and that redundancies were not preconceived as part of the wider restructure of the College (planned before this year). But there's a somewhat telling paragraph in the last published financial statement off the back of a bumper recruitment year in 2020/21:
Although difficult to ascertain exactly, it does appear that our underlying financial position continued to improve in 2020/21 from the post-referendum lows. However, the pandemic prevented us from reducing costs in a couple of academic departments with particularly low staff student ratios and this will need to be a focus in 2021/22.
The College has embarked on a real-estate spree in recent years. How did they justify this and was it this strategy that's behind the current crisis?
There does seem to be a certain group think among university managers that it's good to invest in buildings and bad to invest in people. As the government continues to double down on its efforts to marketise higher education, something seems to have gone horribly wrong in the way that senior management internalise this reality. The truth, of course, is that universities are literally nothing without their staff. It's not fancy venues and central London campuses that change people's lives but inspiring teaching and world-class research. The idea that you can spend millions on property whilst cutting jobs due to a 'cash-flow crisis' just makes no sense, even from a purely bottom-line perspective. The tragic irony is that the approach taken by senior management – apart from anything else – just makes no business sense.
Birkbeck celebrates its 200th anniversary next year. The College says that 'it's been transforming lives' in this period. How would you describe Birkbeck's mission and what are the likely consequences of the cuts on this mission?
Birkbeck's historic mission is to make higher education accessible to all. But even before these proposed cuts, it was getting increasingly hard to square that mission with a management culture that seemed more preoccupied with flawed market logic than a genuine commitment to making a diverse curriculum both widely accessible and sustainable. This mission has also been deeply compromised by casualised, precarious and exploitative working conditions for both teaching and administrative staff, whilst the Vice Chancellor (known as the 'Master' at Birkbeck) earns a pay packet just shy of £400,000. That's one of the highest in the country in absolute terms but, proportionate to the size of the College, it's in a league of its own.
The really sad truth is that in spite of the acute financial pressures impacting on the sector as a whole, there are also real opportunities for Birkbeck to reimagine its historic mission for a post-Covid world. New technologies of delivery bring ex-London and international students beyond the global elite within reach. Instead of opting immediately to decimate both livelihoods and the lifeblood of the College, senior management could have chosen to work with colleagues creatively to make our programmes more accessible and attractive to a much wider potential pool of students. There was – and still is – a choice. There really is, contrary to Margaret Thatcher's well-established dictum, an alternative and staff, working with our students, are determined to mount the necessary resistance.
Sign the petition against job cuts at Birkbeck.  
Join the protest (details TBC)
Before you go
If you liked this article, please consider getting involved. Counterfire is a revolutionary socialist organisation working to build the movements of resistance and socialist ideas. Please join us and help make change happen.
Tagged under: