Author

Date

5 August 2021

Type

Share button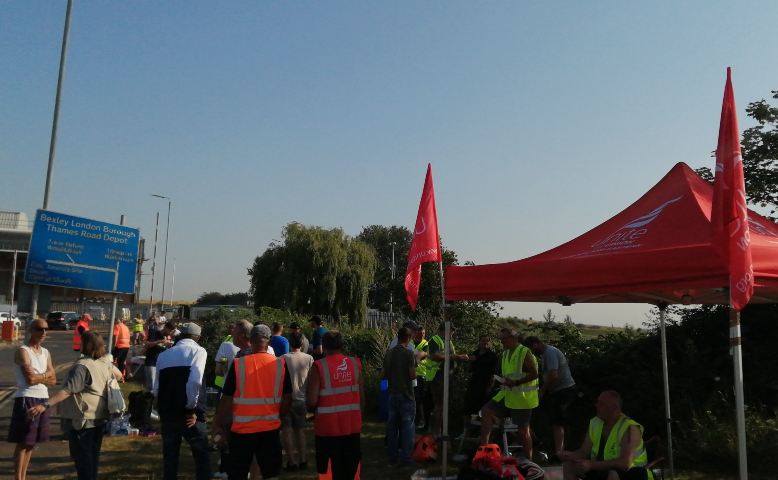 With Bexley refuse workers now in their fourth week of strike action, we need to do everything we can to support their struggle, writes Jamal Elaheebocus
Refuse workers in Bexley have entered their fourth week of industrial action as their fight against Serco and the local council continues.
They are on strike because of pay disparity between workers, where for example newly recruited drivers are being paid £6,000 more per year than existing drivers. They are also being paid less than workers in other London boroughs despite doing the same jobs, with some earning less than the London Living Wage. On top of this, they are receiving low sick pay and low pay for industrial injuries.
The dispute in Bexley has been going on for some time, with strike action taking place in March 2020 due to management bullying and low pay.
The strikes have involved 140 workers and caused serious disruption to bin collections in the borough. Despite this, the council have refused to get involved and negotiate with the new contractors Countrystyle, who will replace Serco in eight weeks.
Striking workers have faced police intimidation and management bullying but are remaining strong. They have already secured the London Living Wage for all workers in the new contract with Countrystyle.
Unite are warning that the dispute could go on until October if the council refuses to intervene, which it has done so far.
This is a vital dispute, which follows on from refuse workers' victory in Thurrock against the local council after six weeks of strikes.
There is pay disparity across the London boroughs, where workers in some boroughs are earning below the London Living wage (£10.50 per hour) while others earn higher than the London Living wage. Victory in the Bexley dispute could give refuse workers in other London boroughs the confidence to take industrial action,
In Croydon, a committee has been put together among refuse workers and union membership has increased from 20% of the workforce to 60%. The victory in Thurrock and strength of the Bexley dispute has given workers confidence to take on Veolia, which runs refuse collection in the borough. 
This kind of action will likely take place in other boroughs, especially if the Bexley workers win the dispute.
It would also be a major victory against the notorious Serco, who have been cutting pay and bullying workers in several different places, from caterers at the Royal London hospital to workers on Caledonian sleeper services. 
A victory in Bexley will demonstrate to other workers employed by the company that they can be defeated and that their attacks can be resisted. 
It is therefore vital that we support the Bexley strike and show solidarity. This can be done in several ways:
Donate to the strike fund:
Name: Unite LE/649 Sort Code: 60-83-01 Account Number: 20441911

Pass this model motion in your trade union or CLP branch

Send messages of solidarity to [email protected]

Lobby your MP to support the strike
Tagged under: