Author

Date

26 May 2023

Type

Share button
Counterfire's weekly digest with the latest on strikes and workplace struggles
You can sign up to receive News from the Frontline straight in your inbox
GMB members at the Amazon fulfilment centre in Coventry are staging their 16th day of strike action in the fight for pay rate of £15 an hour. Around 700 workers are taking part in the strike with the number of striking workers growing with each strike date called. The union and its members in Coventry are currently waiting on a decision from the Government's Central Arbitration Committee on where they have enough density at the site to achieve union recognition.
Amanda Gearing, GMB Senior Organiser, said:
"Our members won't accept a pay rise of pennies from one of the world wealthiest corporations. The mood amongst GMB members on the picket line is sky high. They've had huge support from local people here in Coventry and from fellow Amazon workers around the globe.

"Meanwhile Amazon top brass are reaching for desperate Jekyll and Hyde tactics towards its own workforce. One day they're promising vouchers and competitions to win over staff, the next they're setting up barriers around their fulfilment centres to keep staff union representatives away. Our members won't be convinced by anything less that £15 and for Amazon to talk pay with their union".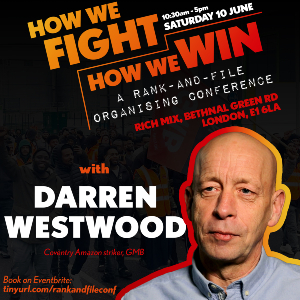 The GMB is also balloting workers at Amazon sites in Rugeley and Mansfield. Darren Westwood, a Coventry Amazon striker, will be speaking at the How We Fight, How We Win Rank-and-File Conference on 10 June in London.
Two weeks till the rank-and-file conference!
On Saturday 10 June at the Rich Mix in London, trade unionists from across unions will come together to discuss the strike wave one year on and the next steps. The How We Fight, How We Win Rank-and-File Conference will be the first opportunity for grassroots trade unionists to organise and strategise. It has been backed by a wide range of organisations and trade union bodies. If you haven't booked yet, book now and encourage fellow trade unionists to be there!
There will also be a Strike Solidarity Benefit in the evening after the conference starting at 6pm featuring Lowkey, Don Biswas, Barbarella, Tayo Aluko and David Rovics with more acts to be announced. Attendees of the conference and strikers go free and all funds raised will go to strike funds.
Doctors giving Tories another dose
The British Medical Association is re-balloting doctors throughout Britain, as well as announcing another 24-hour strike on the 17th of June. The government has been running the clock down since the winter and is still trying to offer 5%, despite still vast inflation. The campaign to restore the third of pay that doctors have lost under the Tories continues.
Profits up, tools down!
Around 1,600 Unite members working across several companies in the North Sea Oil sector are too down tools in a dispute over pobs, pay and conditions. The strike action will start on the morning of 1st June for 48 hours, finishing on 3rd June this will be followed by strike action 8th to the 10th June. Workers have rejected a 6% pay offer, which represents a real term pay cut. This below inflation offer was made to workers despite analysis by Global Witness that showed the companies made a combined £146bn in profit in 2022.
Unite general secretary, Sharon Graham, said:
"With the support of their union Unite, an army of 1,650 offshore workers are taking the fight to multibillion oil and gas corporations. The latest rounds of strike action in June will see the biggest group of offshore workers to date taking strike action. Unfettered corporate profiteering at the expense of our members will not go unchallenged. Unite is determined to deliver better jobs, pay and conditions in the offshore sector, and deliver we will."
The strike action called by the union will hit operators including the likes of Apache, BP, Harbour Energy, Enquest, Ithaca, Repsol Sinopec, Shell and TAQA.
Striking in the belly of the beast
It is the most totally unreformed institution and Britain and one of the only authorities in the world where the wealthy can quite legally just buy votes: the Corporation of the City of London is the undemocratic medieval government that allows the billionaire bankers to run themselves. And it is facing strike action that it may never have experienced in its thousand-year history.
Despite controlling the vast majority of the country's wealth, the City Corporation refuses to offer its workforce – the people who have to clean and maintain literally everything fantastically wealthy bankers take for granted every day – more than a 5% pay rise. The staff are poorly paid, even by London standards, and have to pay a fortune to travel in and out of Europe's most expensive location every day.
Over a thousand workers in GMB and Unite will strike for 24 hours the 25th of May, with more united action to come if the City fat cats will not make a sensible pay offer from the billions they command.
The Right to Strike Bill update
The Tories have rejected several amendments to its controversial anti-strikes bill, including those that would protect workers from being sacked for taking part in otherwise lawful strike action.
On Monday 22 May MPs voted against all but one of the amendments to the Strikes (Minimum Service Levels) Bill that were put forward by the House of Lords last month.
As NFTL has previously reported, if this bill is made law, the legislation will give ministers power to impose new minimum service levels when strikes takes place. Bosses will be able to provide notices to workers who have voted to strike that they need to work to maintain these minimum service levels. This effectively defangs strikes.
RMT's Mick Lynch says:
"We will not allow our members to be dismissed. We will not allow our members to be disciplined. We will not obey work notices issued by the employer or issued by the Government. We will defy this law.

"If this law comes into fruition, the TUC and all of the trade unions affiliated and every worker in this country has got to unleash a mass campaign of workplace disobedience."
Last Monday's Westminster rally was good, but only as a starting point. The entire of our movement needs to get behind this and ensure Mick Lynch's talk becomes action. It's unity that delivers.
It's the real thing: Coca Cola at Wakefield
Unite members at Europe's biggest soft drinks manufacturer based in Yorkshire are set to strike for two weeks in June over pay.
Unite's Chris Rawlinson says:
"Coca Cola's pay offer has fallen flat. The vast majority of the workforce have joined Unite to fight for fair pay. Now a series of strikes will inevitably shut down the production of Britain's favourite soft drinks, including Coca-Cola. But industrial action can still be avoided at Europe's biggest soft drinks plant if bosses realise that they must pay workers a fair wage from the company's enormous profits."
Coca-Cola's most recent profit statement was £1.85 billion; of course they can pay their workers more. It's our movement's task to generalise the confidence of private sector strikers into the public sector. Get down to those picket lines if you can; they'll be good.
Fighting for peace is a trade union duty
As the convergence between warmongering and the workers' movement ever increases, so does Stop the War's vital campaign to integrate unions with its objectives.
The next staging post in this crucial imitative is the 30 May online network meeting. Make sure your branch and trades' council is represented.
Workers everywhere are seeing through the lies of the bosses' proxy war and are ready to make a stand. Contact Stop the War nationally for further details.
Before you go
If you liked this article, please consider getting involved. Counterfire is a revolutionary socialist organisation working to build the movements of resistance and socialist ideas. Please join us and help make change happen.
Tagged under: