Author

Date

1 October 2010

Type

Share button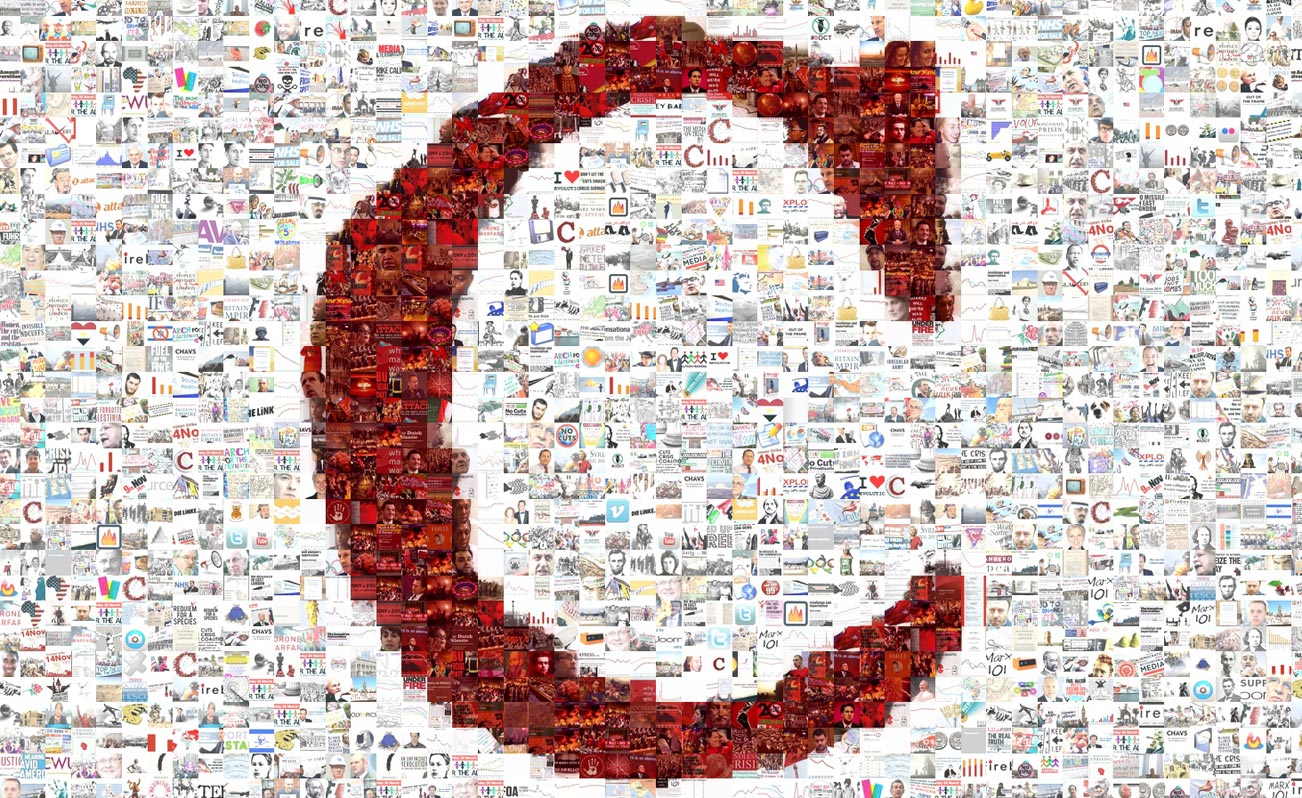 We are told by the media and politicians that the concept of class is no longer relevant. Lindsey German argues that we cannot understand the current crisis without it.
Class is one of the most misunderstood terms today. It's not surprising when our lives are defined by consumption and when even millionaire Tories drop their received pronunciation to sound at least a bit like the rest of us. In the US it seems widely accepted that the working class has disappeared' that most people are 'middle class' and that under them is an 'underclass'. While there is still much more talk of the working class in Britain the analysis of class is based on sociological approaches, not those of Marx. But class isn't fundamentally about where you eat, what you wear or how you speak.
Class is a social relationship. It is defined by one's relations to the means of production. Marx's claim that there were two major contending classes, the exploiters and the exploited or bourgeoisie and proletariat, remains as true as ever. Those groups or classes in between increasingly define themselves in relation to one or the other of these major classes. People become conscious of their class position through the process of experience and struggle.
I wrote the short book A Question of Class in 1996. The article below was the final section of it. It remains current: class struggle in Britain is still low, and this makes it easier to present the argument about class as passive and unrelated to workers fighting back. This is beginning to change, and I hope that in the coming months we will see more groups of workers attempting to make their mark on history. In the process, new class consciousness will develop, and those who didn't think of themselves as workers with a collective identity will change their ideas.
This article aims to be a contribution to that, and to the building of an organisation committed to furthering working class struggle.
---
A class for itself
Perhaps the greatest difficulty in discussing class comes when we try to make the link between what constitutes a class objectively and how that class develops revolutionary ideas and becomes capable of making a revolution. The leap that this necessitates between the working class as it is and what it has to become in order to make such a revolution is so immense that it seems impossible to bridge. Workers are atomised and divided. Each worker lives within his or her family, separated off from wider society for much of the time. Workers are divided along lines of race, sex, nation, between manual and white collar work. They are split between different workplaces, varying immensely in terms of size, work process and organisation. Politically, although Labour is the dominant party among workers, significant numbers of both white collar and manual workers vote Tory. And there are millions of people in Britain today whose consciousness of their class position does not correspond to their actual position.
How do workers begin to cut through these confusions and so come together as a class? After all, if the working class is so big and so powerful, how is it that we seem as far away from a socialist society as ever? And if the working class is so revolutionary then why does it not make a revolution?
Workers' position in capitalist society
Throughout the previous chapters we have talked about the major differences between the classes in terms of income, attitudes and expectations. These inequalities are a direct result of workers' relationship to the means of production'Äîthe fact that they are exploited. But this economic relationship pervades the whole of their lives. It means that the ideas which confront workers'Äîideas which they receive through the education system, through the media, through the general 'common sense' which dominates society'Äîbasically accept the status quo. It is assumed that our rulers have the right to rule, that nothing can be achieved except through gradual change, that everyone is equal before the law. In one of their most famous passages Marx and Engels wrote:
The ideas of the ruling class are in every epoch the ruling ideas: i.e. the class, which is the ruling material force of society, is at the same time its ruling intellectual force. The class which has the means of material production at its disposal, has control at the same time over the means of mental production.[1]
Not only do the employers own the factories and offices, they also ensure to the best of their abilities that their ideas remain the ruling ideas. The whole structure of society'Äîthe education system, the family, the state machine, the media'Äîis designed so that these ideas are transmitted as though they were the most natural thing in the world. So we are constantly faced with beliefs which defend the right of our rulers to rule. We are told that bosses deserve their incomes and lifestyles because they take risks and work harder, that we all have a 'national interest' which binds us together, that any attempt to fundamentally change society has been doomed to failure.
Capitalist exploitation also creates the alienation of workers. Workers produce the wealth in society, but are cut off from the products of their labour. These products appear as estranged from any control that workers might have over them. Workers feel a sense of powerlessness not just at work but in every aspect of their lives.
For the proletarians… the condition of their existence, labour, and with it all the conditions of existence modern society, have become something accidental, something over which they, as separate individuals, have no control, and over which no social organisation can give them control.[2]
In addition, the things which workers produce confront them as commodities, goods to be bought and sold in the market. Commodities are a product of social relations—of the exploitation of workers—but appear as objects which determine social relations. They seem to workers as something detached from their work and their life, which can only be obtained by resort to the market. Everything has a price including both what they produce and their own labour power.
It is no wonder that workers, deprived of the means of production and separated from the products of their labour, see work not as the most meaningful part of life but as a sacrifice of their life. The idyllic properties invested in the idea of retirement from work, or even the arrival of the weekend or Friday night, within popular mythology, demonstrate how much work is seen as an unpleasant reality which has to be got through in order to begin 'living'. Yet the estrangement and lack of control that workers feel about the world around them ensure that leisure too is dominated by alienation'Äîthere is no escape from the market and from the world of commodities.
It is precisely this condition which leads workers to see themselves other than as workers. It is very common today for workers to be seen simply as consumers. Many argue that the collective identity nurtured by large factories, company towns or big working class estates, leisure time dominated by mass activities such as attending football matches or day trips to Blackpool, has disappeared. Now individuals go to work separately in cars, work in smaller units, live in Brookside-like housing developments and watch videos. They identify themselves not by class position but by what they spend, how they spend it and how they dress.
Increasingly since the 1950s, the labour market has ceased to be a primary source of identity. It has yielded its dominant position to the consumer market. People are, it is said, no longer what they do, but what they have, what they own. Perhaps this is why, when we look at a crowd of people, it no longer makes sense to ask whether they are working class or middle class. All we see is a collection of individuals going about their chosen business, freed from the limitations that bound earlier generations to their place in society.[3]
There are of course very important partial truths in such statements. The attitude of most individuals is to define themselves in terms of their personal relationships, their hobbies and other such factors. This is not, of course, a new phenomenon. Throughout the 20th century, working class cultural habits, fashion and holidays have all played a significant part in workers' lives.
But the consumerism and individuality exist precisely because of the life experience of workers. When you have no control over the working day, and little control over where you work, how you do your work and what satisfaction you get from the job, it is hardly surprising that everything outside work is invested with great importance. When individuality is denied to workers over all the important decisions in their lives, then the importance of being able to wear designer clothes (or at least cheap copies), decorate your house slightly differently from your neighbours or go on foreign holidays becomes much greater. When workers' lives are routine, humdrum and often downright unpleasant at work, then to have a home and family'Äîand especially to have children who will be able to lead better lives than you have done'Äîbecomes the centre of life.
The problem of course is that all these 'escapes' from the world of work are really no escape. They provide some relief and happiness'Äîand certainly people who are denied these basics inside capitalist society usually feel much off without them'Äîbut they cannot provide an alternative to the market and the system of exploitation.
The social structure, built upon the market, is such that relations between individuals and social groups do not take place directly, as cooperative human encounters, but through the market as relations of purchase and sale. Thus the more social life becomes a dense and close network of interlocked activities in which people are totally interdependent, the more atomised they become and the more their contacts with one another separate them instead of bringing them closer.[4]
So precisely the aspects of life which seem to offer most relief in fact do the opposite. Even in areas where workers might try to express their individual talents or interests in a different way, the market acts in order to embrace them and in the process robs them of anything 'individual' or 'different':
So enterprising is capital that even where the effort is made by one or another section of the population to find a way to nature, sport, or art through personal activity and amateur or 'underground' innovation, these activities are rapidly incorporated into the market so far as possible.[5]
For workers to define themselves as consumers therefore is far from being an escape from alienation'Äîit is an affirmation of their alienation, and an affirmation that in a world based on commodity production 'the source of status is no longer the ability to make many things but simply the ability to purchase them'.[6] That ability to purchase commodities may be central to workers' lives, especially since those such as the unemployed or pensioners who are effectively without such ability are at the bottom of the pile within capitalist society, but its importance diminishes the more workers begin to see themselves as part of a collective. The more they act to overcome the atomisation of their lives'Äîand this means involvement in collective struggle'Äîthe more the same people who once placed such store by clothes or cars begin to see such collective action as more important.
It would seem from the above that the situation of workers makes it extremely difficult for them to overcome their subordinate role as a class, let alone be able to organise a new sort of society. The working class is very different, for example, from the emergent capitalist class—the bourgeoisie—which overthrew the old feudal economies in countries such as England and France and were able to establish modem capitalist states. The bourgeoisie was able to develop itself as a minority class within the old feudal society. It developed its own strongholds in the towns, its own industries, its own schools and universities, even its own religion. It was able therefore to build its wealth and power which allowed it then to make the revolution and establish its rule.
The working class today is not able to develop similar sorts of class institutions of its own inside capitalist society. It owns no property and has no power except its ability to produce the wealth of society. It is only by realising this power—by taking control of the means of production and by destroying the old capitalist state—that it is capable of making its own socialist revolution. This can only be done collectively, because the working class produces and works collectively. It is only in the process of doing so that it will be able to overcome its atomisation and alienation and become a fully conscious class:
Both for the production on a mass scale of this communist consciousness, and for the success of the cause itself, the alteration of men on a mass scale is necessary, an alteration which can only take place in a practical movement, a revolution; this revolution is necessary, therefore, not only because the ruling class cannot be overthrown in any other way, but also because the class overthrowing it can only in a revolution succeed in ridding itself of all the muck of ages and become fitted to found society anew.[7]
It was this that Marx talked about when he made a distinction between the working class as a class in itself and a working class for itself.[8] He meant by this that the working class existed as a class in objective terms but had to learn how to struggle and develop its own ideas in order to move towards class consciousness. It was only when the struggle and ideas had reached such a level that workers' revolution became possible that the working class could become a fully conscious class.
Of course there is a huge leap from one to the other—most workers do not go straight from accepting much of the system to suddenly completely opposing it. Instead the day to day battles of workers all become lessons in the school of class struggle and help them to develop their ideas and activity to a higher level. Marx wrote about the connection between economic and political fights:
The attempt in a particular factory or even in a trade to force a shorter working week out of individual capitalists by strikes, etc. is a purely economic movement. On the other hand the movement to force through an eight-hour law is a political movement. And in this way, out of the separate economic movements of the workers there grows up everywhere a political movement, that is to say, a movement with the object of enforcing its interests in a general form, in the form of possessing general, socially coercive force. While these movements presuppose a certain degree of previous organisation, they are equally a means of developing this organisation.[9]
The key point here is that workers change and develop their ideas in struggle. As Hal Draper has written: 'The working class is atomised when it is unorganised. Class organisation brings class characteristics to the fore, and, as a function of organisation, class characteristics increasingly take precedence over merely individual reactions, the greater the scale of class involvement'.[10]
Organisation comes from struggle. The class struggle is a daily feature of life coming from the daily experience of workers. Speed-up at work, cuts in welfare, worsening public transport and higher taxes are all demonstrations of the class struggle—the way in which the ruling class attempts to extract an even greater share of the surplus produced at the expense of workers. This experience tends to give many workers at least some sense of being workers and of suffering exploitation. But their perception that there is something wrong with the system, that they are being made to work too hard, or that all their wages seem to go as soon as they receive them, is often coupled with a sense of powerlessness to do anything.
Trade union organisation is a reflection of this combined set of ideas. It is a perception that much is wrong with the world and that working people are on the receiving end of it, alongside the feeling that nothing fundamental can ever change.
Unionisation and struggle
Unions are themselves products of workers' struggle. They have rarely been set up without opposition from the employers and their hangers on. In Britain, their origins go back nearly 200 years, when unions were formed illegally against a background of repression and brutality as the Industrial Revolution swept everything before it. Those who organised the unions (or swore illegal oaths, as the law put it) were subject to imprisonment, harassment and even transportation. Yet persistently the new working class joined trade unions. The first organised movement of the working class around Chartism gave the impetus to trade unionism, with the first general strike in the textile districts and elsewhere in 1842.
Time and again workers who have been regarded as lacking in militancy, inexperienced, even unorganisable, have organised together to defend themselves from the employers' attacks. In Britain today the decline of old and traditionally well organised groups of workers, for example the miners and the dockers, has not meant the end to union organisation. Instead new groups of workers have developed militancy and traditions'Äîpostal workers, civil servants, bank workers, shop workers are now highly likely to be in unions and many will have experienced at least some strike action. The change in the past two decades, with the growth of these new sectors of organisation and the steep decline of some traditional industries, has led to some dramatic changes in perception. Today, for example, most people familiar with the organised working class movement would recognise postal workers as one of the most militant and powerful groups of workers, who have built their organisation through a series of battles with post office management. Printers have, however, seen a decline in their traditionally strong unions. Yet in the early 1970s everyone would have taken for granted the exact opposite: printers were among the strongest organised workers, while post office workers suffered a major defeat in their national strike in 1971 and were considered much weaker.
The same has been true in the past. The of 'new unionism' in the late 1880s centred in the East End of London'Äîregarded at the time as one gigantic 'underclass'. Its motor force was unskilled workers'Äîdockers, seasonal gas workers, the 'match girls''Äîand large components of the most militant trade unionists were women and Irish immigrants. Will Thorne wrote of the founding of the gas workers' union in 1889: 'The idea caught on; enthusiasm was at a high pitch, and within two weeks we had over 3,000 men in the union. Never before had men responded like they did. For months London was ablaze'.[11]
The strikes won union organisation and established the basis of what were to become the big general unions inside British industry. The later upheavals in British working class history had a similar effect. The Great Unrest between 1910 and 1914 led to the strengthening of groups such as the railway workers and the miners, who found themselves in conflict with both the employers and the state. Again in the 1930s there was a struggle inside the new industries to win workers' rights and unionisation. These new industries were dominated by workers with no political traditions'Äîwomen workers who might previously have been in domestic service or former agricultural workers who could no longer get a living in the rural areas. They lacked any knowledge and tradition of organising. Those who came from the traditionally well organised areas'Äîespecially unemployed miners who went to work in Coventry or Oxford'Äîat first found themselves very isolated in their attempts to build unions or politicise the workforce. But in the course of the 1930s many of these same workers were transformed into workplace militants. Here is the description of one factory in Oxford, Pressed Steel, in 1938 when the union branch secretary was sacked:
The workers marched right through the factory from one end to the other… They had a meeting in the Press Shop and there were workers everywhere'Äîstenographers, typists, God knows what, all over the machines taking the stuff down that the workers who were the leaders, who were on the top of the presses, were saying. And they turned machines over, they turned car bodies over. Just erupted.[12]
So new, inexperienced and weak groups of workers became militant, strong and experienced in the course of struggle. It is important to stress this today when it is a common argument that, 'we're not a strong group of workers like the dockers', or that, 'where I work we don't have the power that coal miners do.' The power of the working class is not an absolute question. It too is something which is formed and developed in the course of workers taking action. So the strike by workers at Dunne's stores in Ireland which included large numbers of part-time and women workers and which ended in victory, demonstrated how a traditionally weak group of workers could develop their power. The impact of this strike on the trade union movement in Ireland has been dramatic:
The biggest single increase in membership of any union last year [1995] was Mandate, which recruited 2,088 new members, of whom 1,508 were women. This was largely as a result of the strike at Dunne's stores. This year could tell a similar story. The membership of the Irish Nurses' Organisation has grown by almost 3,000 during the last couple of months of industrial unrest. Again the overwhelming majority of recruits are women.[13]
At the same time, groups of workers traditionally seen as strong can fail to use their potential power and so be defeated. There was a catalogue of such disputes in the 1980s including the steel workers' strike in 1980, the print workers at Wapping in 1986 and the failed campaign to prevent pit closures which the NUM followed in 1992-3. How workers fight and whether they fight helps to determine how strong and powerful they then become, and the consciousness which develops from fresh struggles.
Of course it is true that some groups of have more obvious and direct power than others. If print workers strike for a few hours, they can cost their employers huge in lost revenue and advertising. Electrical power workers are potentially able to paralyse the whole of industry by the action of a very small number of workers. But it is also the case that bank workers can have a rapid and damaging effect on their employers' profits, as can workers in Sainsbury's. Even who are not directly making profits for a particular capitalist have more economic and social power than our rulers would have us believe. For example, teachers and health workers, who contribute indirectly to the production of surplus value, can have a financial effect, even if it is not felt so rapidly. The ruling class in general fears nearly any withdrawal of labour, not just for financial reasons but because of the threat to social stability. It is too damaging for the ruling class to allow a strike among, for example, workers in unemployment benefit offices, for fear of the social upheaval that this would create.
The generally low level of struggle in Britain in recent years reinforces the dominant view that workers lack power. But it is obvious that those workers who have engaged in even partial struggles have begun to develop a power which would not have been thought possible at one time. Teachers' and nurses' action has forced their work conditions and their union to the very centre of political debate and developed a level of militancy and consciousness quite different from any that had previously existed in those industries.
However there are necessarily limits to how far this change of consciousness goes. Partly this is because of the nature of trade union struggle itself. It was described by the German revolutionary Rosa Luxemburg as a 'labour of Sisyphus'. Sisyphus was a figure in Greek mythology forever destined to push a stone up a hill only for it to roll down again as soon as he got near the top, thus forcing him to start again. Because trade union struggle is essentially defensive under capitalism the same process occurs'Äîworkers make advances, but because they never succeed in overthrowing the system by this method, they find the gains they have made constantly under attack by the employers.
The role of the trade union leaders fits this process. They see themselves as essentially balancing between capital and labour'Äîwanting to ameliorate the conditions of their members but at the same time fearful that any struggle which goes 'too far' will begin to threaten the whole foundations of capitalist society. The trade union leaders prefer periods of capitalist expansion, when their demands for slightly higher wages, or a shorter working day, are compatible with what the system seems able to give. In periods of crisis they become disoriented, realising that such demands can in some situations threaten the whole future of capitalism itself, and realising equally that they cannot deliver the reforms which their members require and for which they increasingly clamour.
It is this which explains the vacillations of the union leaders between confronting the system and compromising with it. Many trade union members accept this compromise as the best they can get out of a system over which they have no direct control. So struggle changes consciousness, but not always to an understanding of the need for a revolutionary overthrow of society.
The unevenness inside the working class is the product of capitalism itself. Workers are divided in every conceivable way and are led to believe themselves different from one another. Their experiences are also very different, depending on what jobs they do, what sort of workplace they are in, what their background is. Much of this unevenness is overcome in struggle, but by no means all of it. That is why a workers' party is needed.
Party and class
The working class has to have a party to overcome the contradiction between its potential revolutionary role and its actual situation. To overcome this contradiction requires a conscious struggle by an organised minority which aims both to win much larger numbers directly to its ranks, but also to give a lead to other workers who may still be at least partly influenced by the union leaders or the Labour Party. Any revolutionary party has to avoid the dangers of workers' organisation which has historically dogged the movement: that it either substitutes for the class movement or that it assumes its interests and those of the whole working class are identical. The first danger can be summed up by those organisations who believe it is enough simply to proclaim themselves the 'workers' party' for them to become it, and who think that adoption of the 'correct' programme will eventually lead the working class (or at least its 'vanguard' to their banner. Most of such organisations have found themselves incapable of moving beyond the size and status of a sect, and far from their politics being proved correct when the struggle rises, have found themselves on the sidelines when workers do move.
The second sort of party'Äîwhich represents the whole working class'Äîis most usually the Labour Party model. This sort of party ignores questions of struggle and consciousness as having much to do with its organisation, is most concerned with taking over the existing social institutions and running them on behalf of workers, and therefore takes its politics from the lowest common denominator. Workers' ideas are taken as given'Äîin this view, there will always be racists and sexists inside the working class movement, so all points of view have to be encompassed if all workers are to be represented within the party. In reality, this disarms the most class conscious and revolutionary workers within such a party and leads to an organisation whose structures and organisation are characterised by opportunism and compromise.
A genuine revolutionary party has to break quite sharply from both such models. It has to be rooted in the class movement, with organic links to the most advanced sections of the working class. Partly this means that the party has to be the memory of the working class movement. Franz Jakubowski writes:
While the class as a whole recognises its tasks only in the course of struggle, a part of it, the party, already knows the direction from the experience of previous struggles. [14]
The party's role is partly arguing and discussing inside the working class movement, getting across the tradition of the movement, the lessons of past defeats and the theoretical ideas which have developed from the movement. However, the party has to learn from the class'Äîbecause the working class movement is itself constantly developing, throwing up new forms of organisation and struggle, looking to new ways out of crisis. In this sense, the party can often be not in advance of the class, but lagging behind its most class conscious elements. The experience of outbreaks of revolution or even of mass strikes, where once passive workers move swiftly into action, and revolutionary socialists are taken by surprise by their actions, proves this only too well. Then millions of workers can look towards the revolutionary overthrow of the system, because they see that the path of reform is closed. In such situations they set up their own forms of organisation and begin to run society themselves. The establishment of workers' councils is a feature of workers' revolutions as they try to establish workers' power. This is why Lenin could write during the 1905 Russian revolution that the working class is instinctively social democratic (by which he meant revolutionary).
Perhaps this relationship between the party and the class can be summed up as: 'The party is simultaneously the product and the producer of class consciousness.'[15]
So the party is rooted in the day to day struggles of workers and at the same time attempts to generalise and develop its ideas out of these struggles. Only a party where there is a constant interaction between the two can be capable of giving a lead to workers' struggles as they develop, and help to take them beyond limited defensive struggles to a more general onslaught against capitalism. And only in the process of this happening can workers themselves begin to come to consciousness and begin to see themselves not simply as the object of history who sells his or her labour power as a commodity, but capable of acting in order to change history.
Because class is a living relationship to the means of production, it is precisely in the course of such struggles that workers come together as a class—when all the individualism, the differences, the separations begin to be overcome and workers see their collective strength and their own power.
Modern capitalism has created a bigger and bigger working class, has spread the market to every area of life and to every part of the world, has deepened the crisis so that more and more workers are forced to struggle and so begin to develop a sense of this power. The major battles which lie ahead, as the ruling classes internationally attempt to cut into workers' living standards in order to preserve their profits, will make greater numbers of workers conscious of the need to fight the system'Äîand aware of their role as a class which has the potential to make a revolution.
Notes
[1]. The German Ideology, Karl Marx and Frederick Engels (London 1965), p.60.
[3]. Talking Work, Trevor Blackwell and Jeremy Seabrook (London 1996), p.200.
[4]. Labour and Monopoly Capital, Harvey Braverman (London 1974), p.277.
[7]. The German Ideology, op cit, p.86.
[8]. The Poverty of Philosophy in Collected Works, vol. VI, Karl Marx, p.210-11.
[9]. Marx and Engels Selected Works, vol. 2, 23 November 1871, p.423 quoted in Chris Bambery, 'Marx and the Unions' in International Socialism 26 (London, Spring 1985), p.83.
[10]. Karl Marx's Theory of Revolution, vol. II, Hal Draper (New York 1978), p.40.
[11]. Labour's Turning Point, Eric Hobsbawm (Brighton 1974), p.80.
[12]. The British Communist Party and the Trade Unions, Nina Fishman (London 1994), p.217.
[13]. 'Trade unions in Republic gained nearly 10,000 members last year' by Padraig Yeates, Irish Times, Dublin, 28 May 1996.
[14]. Ideology and Superstructure in Historical Materialism, Franz Jakubowski (London 1990), p.123.
Tagged under: